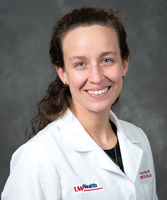 Lindsay Taylor, MD, fellow, Infectious Disease (pictured), was chosen as a 2020 recipient of the Johns Hopkins Medicine Pearl M. Stetler Fund Research Award.
The prestigious award, which is intended for women who are senior fellows or fellows transitioning to faculty at the instructor level, provides 75-percent effort funding for a designated year of research in a postgraduate program.
Dr. Taylor's research will focus on nursing home antibiograms: antimicrobial stewardship tools that track and report resistance trends and aid in making empiric antimicrobial decisions. With the aim of improving antimicrobial use in Wisconsin nursing homes, she will develop and test and a novel antibiogram format.
The Pearl M. Stetler Research Fund is a trust established by the terms of the will of Dr. Pearl M. Stetler, a native of Wisconsin who practiced surgery in Chicago for almost 50 years. It honors the memory of her parents, Margaret and Cornelius Stetler. After Dr. Stetler graduated from the Johns Hopkins Medical School in 1913, she wanted to engage in research, but found that suitable opportunities were not available to her. Instead, she entered the practice of surgery at Mary Thompson Hospital in Chicago. Her estate, "the result of economizing with small earnings" is left entirely to the trust to support research training of female physicians.