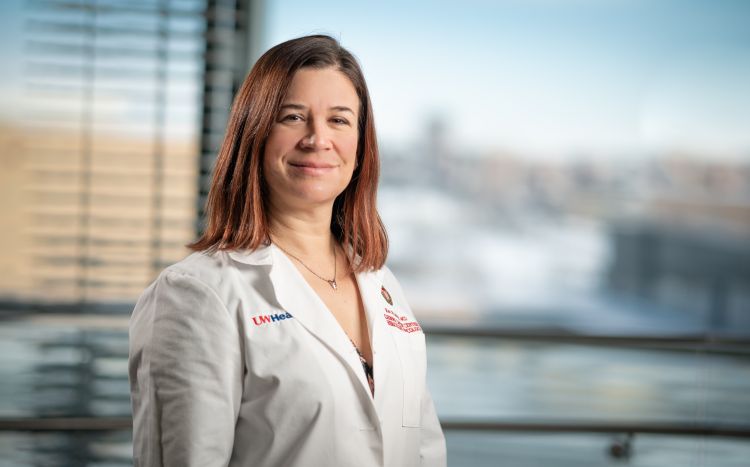 Kari Wisinski, MD, associate professor, Hematology, Medical Oncology and Palliative Care, has assumed the role of interim chief of that division, effective January 1, 2021.
A nationally recognized breast cancer expert, Dr. Wisinski also has clinical interests in tailored screening and risk reduction for patients at high risk of breast cancer. She is an outstanding clinician, having won multiple UW Health awards, including the Avatar UW Award for Top Comments from Patients and the UW Ambulatory Patient Experience Award. 
Dr. Wisinski is the co-leader of the University of Wisconsin Carbone Cancer Center Breast Cancer Disease-Oriented Team and the Big Ten Cancer Research Consortium (BTCRC) Breast Cancer Working Group, and is also the chair of the BTCRC Steering Committee. In addition, she is the deputy editor of Clinical Breast Cancer and was recently named to the National Comprehensive Cancer Network (NCCN) Steering Committee and Breast Cancer Guidelines panel.
Her research focuses on developing and testing novel treatments for breast cancer, especially the most aggressive forms of the disease. For example, she is the principal investigator on a phase II clinical trial testing a combination of two non-chemotherapy agents, talazoparib and gedatolisib, as treatment for triple-negative breast cancer or breast cancers with BRCA gene mutations. She is mentoring a junior faculty member at the University of Iowa—a colleague in the Big Ten Cancer Research Consortium—on that research. 
Dr. Wisinski's research also aims to integrate prognostic and predictive biomarkers and better understand how to administer therapies safely and effectively. Her work is supported by the National Institutes of Health/National Cancer Network, UW Carbone Cancer Center, Big Ten Cancer Consortium, and industry.
In addition to her clinical responsibilities, Dr. Wisinski is an active mentor of internal medicine residents, oncology fellows, and postdoctoral trainees.
Dr. Wisinski joined the Department of Medicine faculty in 2008, after completing an internal medicine residency at the University of Colorado Health Sciences Center and a hematology/oncology fellowship at the Robert H. Lurie Comprehensive Cancer Center at Northwestern University.
In her new role, she looks forward to working with division colleagues and Carbone Cancer Center clinical and research staff to further the mission of providing exceptional clinical care for those affected by cancer, training the next generation and advancing cancer research.
"As a Wisconsin native, it is an honor to continue to serve my state through the leadership of this division, whose daily work impacts so many people," she said.