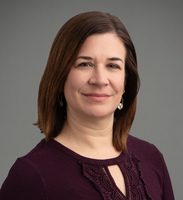 Kari Wisinski, MD, associate professor, Hematology, Medical Oncology and Palliative Care (pictured), was appointed chair of The Big Ten Cancer Research Consortium's steering committee. Composed of one researcher from each member institution, this committee reviews activities of the consortium, decides matters of policy and determines the criteria for approving concepts for development with the Big Ten CRC. 
Peter G. Shields, MD, deputy director, The Ohio State University Comprehensive Cancer Center-Arthur G. James Cancer Hospital and Richard J. Solove Research Institute (OSUCCC-James), will serve as vice chair of the Steering Committee for one year and as chair the following year.
A expert in breast cancer, Dr. Wisinski currently serves as sponsor-investigator of the Big Ten CRC study, BTCRC-BRE18-337, "Phase 2 Trial with Safety Run-In of Gedatolisib Plus in Advanced Triple Negative or BRCA1/2 Positive, HER2 Negative Breast Cancers." The study is now open to accrual at several Big Ten CRC sites. Dr. Wisinski has been active with the Big Ten CRC since its founding and serves as co-chair of the consortium's Breast Cancer Clinical Trial Working Group.
"The Big Ten CRC Steering Committee plays a vital role in establishing research priorities and criteria for the consortium," said Ruth O'Regan, MD, professor and division head, Hematology, Medical Oncology and Palliative Care, and chief scientific officer for the Big Ten CRC. "We are grateful to Dr. Wisinski and Dr. Shields for their commitment and leadership in evaluating and elevating the novel cancer research of the consortium."
The Big Ten Cancer Research Consortium was created in 2013 to transform the conduct of cancer research through collaborative, hypothesis-driven, highly translational oncology trials that leverage the scientific and clinical expertise of Big Ten universities. Its goal is to create a unique team-research culture to drive science rapidly from ideas to new approaches to cancer treatment. Within this innovative environment, today's research leaders collaborate with and mentor the research leaders of tomorrow with the unified goal of improving the lives of all patients with cancer.
Resources