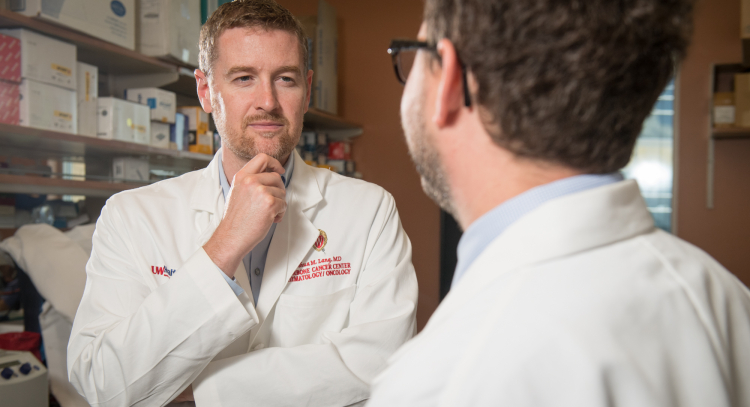 Joshua Lang, MD, MS, associate professor, Hematology, Medical Oncology and Palliative Care, was named Vice Chair for Biomedical Research; a new position in the Department of Medicine.
This newly created position will be responsible for promoting and supporting the mission of discovery and collaboration in the department, as well as help train the next generation of scientists who will contribute to those breakthroughs, with a focus on laboratory-based researchers.
Dr. Lang will serve as the primary departmental liaison to basic science departments across the university and guide the recruitment and professional development of our scientists and basic science-oriented faculty.
With his leadership as Director of the Circulating Biomarker Core at the UW Carbone Cancer Center, co-leader of the Tumor Microenvironment Program and co-director of the Physician Scientist Training Program, he brings a great deal of experience in laboratory-based research and medical education.
His career also includes extensive work in research and medical education for trainees, from undergraduates to graduate students, medical students and medical oncology fellows.
Dr. Lang's research focuses on understanding mechanisms of resistance to targeted therapies through the development of novel liquid biopsies as well microscale models of the human tumor microenvironment. He is the principal investigator on multiple NCI R01 level grants, Department of Defense grants, and is the national PI on a clinical trial and research grants from the Prostate Cancer Foundation investigating novel antibody drug conjugates to treat aggressive prostate cancer.
In his new role, Dr. Lang looks forward to supporting the department's mission of discovery in biomedical research, and guiding the professional development of our scientists.
"Having graduated from our Physician Scientist Training Program, I am well aware of the incredible breadth and depth of biomedical research in our department. I am thrilled at the opportunity to help grow and advance cutting-edge biomedical research initiatives by building a robust infrastructure of collaboration and research education," he says.