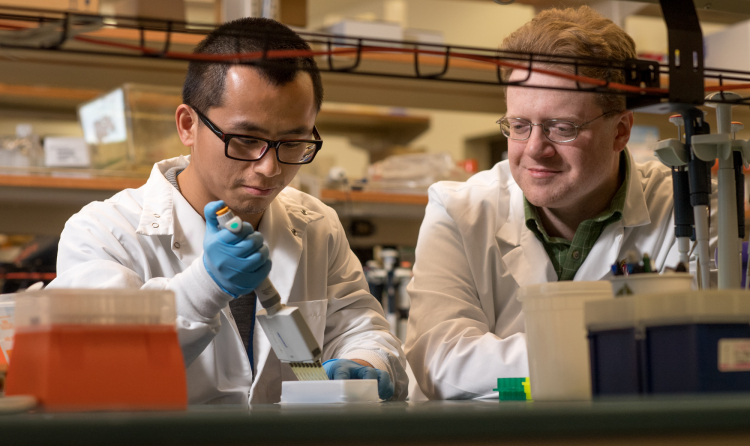 Dudley Lamming, PhD, assistant professor, Endocrinology, Diabetes and Metabolism (pictured above in his lab with former graduate student Deyang Yu), has received a Vilas Faculty Early Career Investigator Award.
The three-year, $100,000 award provides flexible funds for books, research travel, supplies or similar expenses incurred in pursuit of Dr. Lamming's scholarly activity. 
Dr. Lamming's research focuses on understanding how nutrient-responsive signaling pathways can be harnessed to promote health and longevity.
Specific areas of investigation include the regulation of metabolic health and aging by diet; how reducing consumption of branched-chain amino acids (BCAAs) may promote longevity and fitness and the role of the mechanistic Target of Rapamycin (mTOR), an amino acid- and insulin-responsive protein kinase, in this response; understanding the biology of mTOR Complex 2 (mTORC2), a key effector of PI3K/insulin signaling; and the ability of geroprotective interventions to treat or prevent Alzheimer's disease using mouse models.