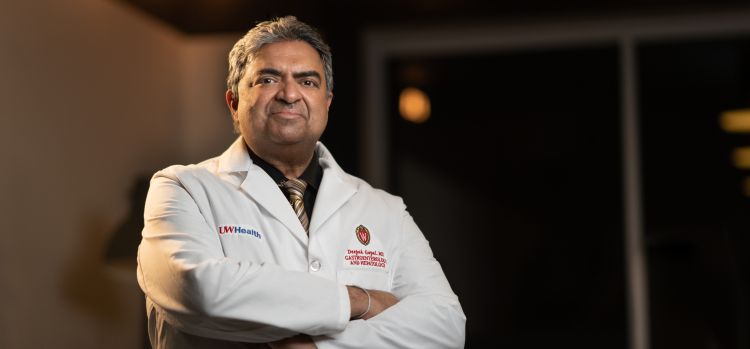 Deepak Gopal, MD, professor, Gastroenterology and Hepatology, was named the Vice Chair for Quality and Safety.
In this role, Dr. Gopal will be responsible for leading clinical quality improvement initiatives and ensuring safety foundational competencies in the department. His leadership will guide performance measurement, translation of data to information in order to facilitate improvement efforts, clinical care, quality, safety, and operations.
Dr. Gopal is well-prepared for this role with 13 years of experience in quality and safety. As part of his responsibilities with the UW Digestive Health Center (DHC) and Ambulatory Procedure Center (APC), he oversees quality assurance/quality improvement (QA/QI) and patient safety Initiatives.
Additionally, he has worked on collaborative quality improvement projects with other divisions, such as developing guidelines and algorithms with Cardiovascular Medicine for patients undergoing or referred for endoscopy to prevent unnecessary cancellations and help patients avoid unnecessary admissions.
Dr. Gopal's commitment to QA/QI is evident through his local and national lectures on the topic, as well as through national recognition of the DHC and APC by the American Society of Gastrointestinal Endoscopy-Endoscopic Unit Recognition Program under his leadership.
Dr. Gopal looks forward to working with the divisions to provide high-quality, patient-centered care, and is honored to be selected to serve as the new Vice Chair of Quality and Patient Safety.
"I am grateful to Dr. Lynn Schnapp, and members of the Department of Medicine and the UW Health leadership team for giving me this opportunity," he says.   
He is also thankful to Michael Lucey, MD, professor and chief, Gastroenterology and Hepatology, for his unwavering support and encouragement throughout his career, as well as all faculty in the department who have been instrumental in promoting a culture of collaboration in patient safety and quality improvement initiatives.  
"Above all, I am extremely humbled and grateful to all my colleagues in DOM for entrusting me in this new position. Quality, patient, and family-centered care are at the heart of what we do as providers and is a team effort. I look forward to sharing my vision and ideas over the next few weeks," he says.