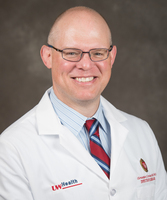 Christopher Crnich, MD, PhD, associate professor, Infectious Disease (pictured at right), and collaborators have received a UW Institute for Clinical and Translational Research (ICTR) 2020 COVID-19 Response Grant Award. This award was one of three new awards extending the 22 awards previously announced by the Wisconsin Partnership Program to address urgent health needs imposed by the COVID pandemic. 
This project, "Improving and Evaluating Virtual Health to Enhance Physical Distancing Measures in Wisconsin Nursing Homes," seeks to immediately reduce COVID-19 spread in Wisconsin nursing homes by collaborating with academic and community partners to generate knowledge on how to expand telehealth infrastructure to promote quality of care and safety.
This work will directly impact resource-poor nursing homes, nursing home residents who are at higher risk for infection, and the providers and staff who take care of them.
Dr. Crnich's collaborators are Elizabeth Chapman, MD, and Ann Braus, MD, both clinical assistant professors, Geriatrics and Gerontology; and James H. Ford II, PhD, assistant professor, School of Pharmacy (pictured below, left to right).