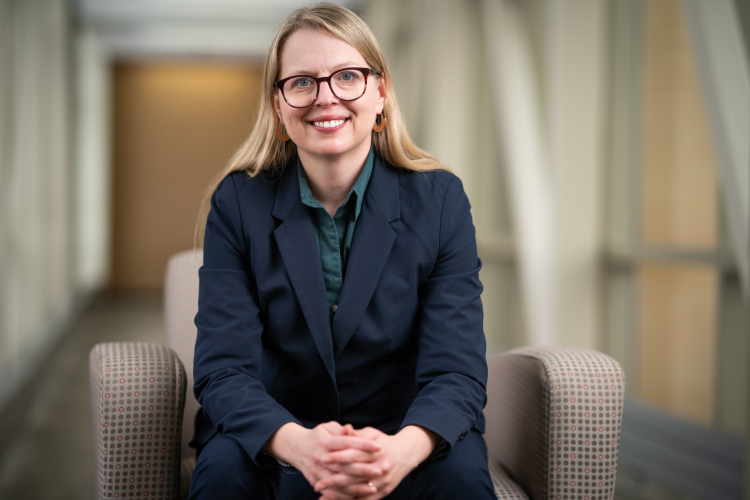 Christie Bartels, MD, MS, associate professor, Rheumatology, was appointed permanent chief of the Division of Rheumatology, effective December 1, 2020.
A respected and familiar presence for many in the Department of Medicine, Dr. Bartels is a 2004 alumna of our internal residency program. She stayed here to complete a chief residency and rheumatology fellowship, and earned a master of science in population health science from the University of Wisconsin School of Medicine and Public Health. She joined our faculty as an assistant professor in 2009.
In her clinical practice, Dr. Bartels cares for patients with rheumatoid arthritis, lupus and related inflammatory conditions. Patients appreciate her exemplary clinical and communication skills: she has received two UW Health Patient Experience Awards and has been named a Top Doctor in Madison for Rheumatology multiple times.
As a physician-scientist focused on health services research, Dr. Bartels investigates ways to reduce health disparities and improve the cardiovascular health and longevity of patients with rheumatic or other inflammatory diseases.
Her team is also examining how retention in care affects lupus outcomes, using a Centers for Disease Control/World Health Organization-endorsed model from HIV to reduce health disparities. She has received the Department of Medicine's Puestow Research Award and the Arthritis Foundation's Community Impact Leadership Award for her work.
A committed educator, she teaches rheumatology topics to learners in the classroom and in the clinic. She is also a research mentor for medical students through junior faculty members, and has co-directed the UW Institute for Clinical and Translational Research (ICTR) career development grant writing group.
Dr. Bartels shares her expertise nationally as a study section member for the Rheumatology Research Foundation, an ad hoc reviewer for the National Institutes of Health and for the Centers for Disease Control and Prevention, a member of the American College of Rheumatology's Committees on Collaborative Initiatives and RHIT Publications, a lupus advisor to the National Quality Forum, and a member of the scientific advisory council for the Lupus Foundation of America.
In her new role, Dr. Bartels looks forward to supporting the division's faculty and growing the division to realize its academic mission to improve the health of patients through meaningful service and scholarship.
"My vision is to amplify our division's excellence in care innovation and translational research," Dr. Bartels said. "My overarching goal is to increase the academic reputation of UW Rheumatology by expanding translational research that spans from the bench to bedside and population, and by enhancing an academic focus for our already strong educational and clinical efforts."
"I am grateful for the extraordinary support and mentorship I have received at UW," she continued. "I'm excited to join the outstanding Department of Medicine leadership team to support our growing division."
Banner photo: Christie Bartels, MD, MS, is the new chief of the Division of Rheumatology. Photo: Clint Thayer/Department of Medicine.