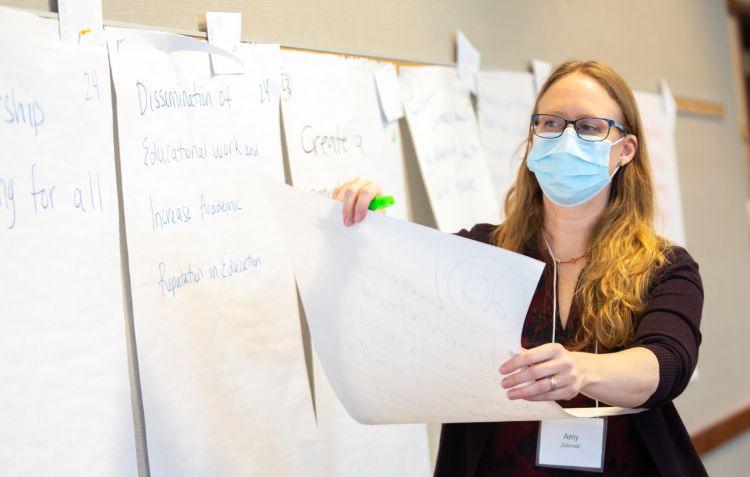 Amy Zelenski, PhD, assistant professor, General Internal Medicine, is known in the department for bringing her theater training—and specific skills like improvisation, storytelling, spontaneity and observation—to spark resident learning.
Now, in her new role as the Department of Medicine's inaugural director of education innovation and scholarship, Zelenski will use those skills to help department faculty and learners become medical education leaders.
Moving Educational Programs to the Next Level
Zelenski started in her new role in September 2021. One of her top priorities is to create a medical education scholarship curriculum for junior faculty and associate education program directors.
This curriculum, combined with Zelenski's direct consultation, will help everyone involved with the department's education mission be better teachers and learn how to develop, rigorously evaluate, and disseminate new educational programming.
"I bring the "yes, and…" spirit of improvisational theater to everything I do," says Zelenski. "I hope to meet members of the department where they are with their educational projects and help move them to the next level."
A Focus on Mentoring and Promotion
Zelenski will also develop a companion mentoring program for faculty and learners interested in education scholarship.
The program will build on evidence-based approaches developed by the Center for the Improvement of Mentored Experiences in Research.
She also hopes to create a more transparent and streamlined promotion path for faculty for whom education is an area of excellence or significant accomplishment.
Zelenski will also continue to lead the internal medicine residency's TEACH program and Empathy course, and teach sessions on anti-racism, medical improv and other topics.
In time, she hopes to position the Department of Medicine as a national leader in medical education.
"I think we do a lot of amazing work here and sometimes don't share that work outside of our local community," she reflects.
"I see us within the community of medical educators around the country and world, and believe we can be valuable partners to others if we put ourselves out there more."
Banner photo, Dr. Amy Zelenski leads an activity at a recent department leadership retreat. Photo credit: Clint Thayer/Department of Medicine