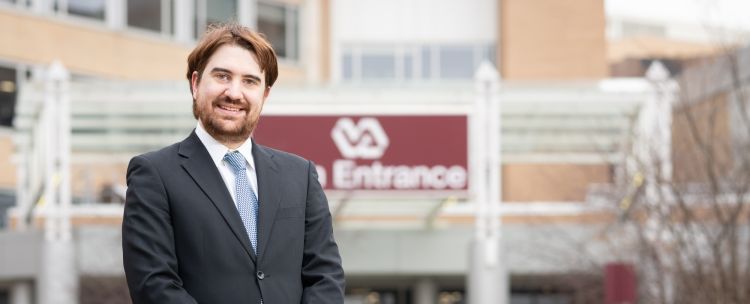 Patients experiencing dementia and dysphagia often need multidisciplinary care. However, this type of care often comes much later than the diagnosis, missing an opportunity to provide the most effective care.
To improve this model, Aaron Kuntz, MD, an advanced geriatrics fellow, is combining his experience from the Hospice and Palliative Care Fellowship with his education in the Geriatrics VA Advanced Fellowship to improve the care model for patients with dementia and dysphagia, and their caregivers.
"Working with dementia and dysphagia patients, I realized that I was having a conversation with the patient, and then the speech-language pathologist was having a conversation, and it just made sense to integrate that conversation and be on the same page," Dr. Kuntz says.
Unlike palliative care, there isn't literature on a commonly accepted structure for patients with dementia to receive multidisciplinary follow-up. However, from his palliative care training with Toby Campbell, MD, MS, professor, Hematology, Medical Oncology and Palliative Care, Dr. Kuntz knew that patients could be receiving more robust care if the scheduling was changed to match individual patient needs.
"And that's when I asked, what would it look like if you move these conversations all the way up to the point that dementia is diagnosed?"
Holding important conversations about the prognosis at the point of diagnosis normalizes concerns, and describes what the disease progression will look like, eliminating surprises and worries for patients and caregivers, alike.
This multidisciplinary model begins with the patient's caregiver meeting with a social worker. Then, an interview and cognitive testing is done with a clinical psychologist. A speech-language pathologist evaluates the patient next. And finally, a joint team meeting is held to discuss the case together, before talking to the patient and delivering the diagnosis and action plan.
"We've managed to turn information on dementia and dysphagia into something that's not as scary and is an accepted part of the journey, including recognizing where things are going to lead," Dr. Kuntz says.
Not only does this benefit the patient, but it allows the physician and speech-language pathologist to fully understand each other's knowledge and ensures that each care professional is on the same page.
Dr. Kuntz has presented this work at the Annual Assembly of Hospice and Palliative Care, with Kailey Jo Williams, MS, CCC-SLP, and is implementing this at the Cognitive Care Clinic at the William S. Middleton Memorial VA Hospital.
He credits the structure of the Geriatrics VA Advanced Fellowship, which has allowed him the flexibility to learn new forms of care. He notes he likely wouldn't have had this opportunity elsewhere.
"I've been able to experiment with models of care and work with interdisciplinary teams I've never been able to work with and experiment with combining geriatrics and palliative medicine in novel ways," he says.
He notes his gratitude to Elizabeth Chapman, MD, associate clinical professor, Geriatrics and Gerontology, for her support and for allowing him the opportunity to develop models of care.
"This fellowship opportunity has helped me grow as a physician and explore unique ways to deliver care," he says.
Banner photo, Aaron Kuntz, MD, Geriatrics VA Advanced Fellow. Credit: Clint Thayer/Department of Medicine