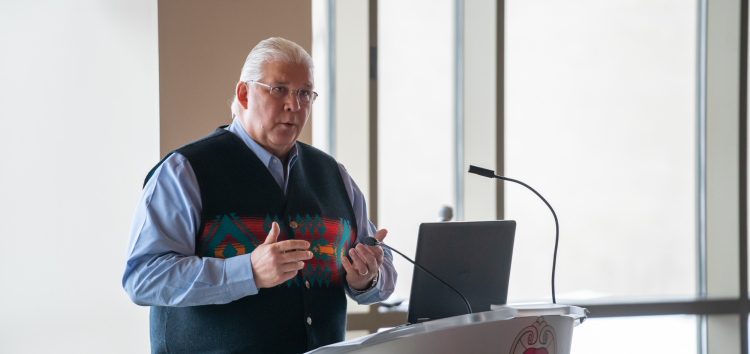 Bret Benally Thompson, MD, associate clinical professor, Hematology, Medical Oncology and Palliative Care, is leading a new project at the University of Wisconsin School of Medicine and Public Health (SMPH) Native American Center for Health Professions (NACHP), aimed at expanding representation of American Indian/Alaska Native health professionals in the health sciences fields and within health care delivery settings.
The new project, funded by a three-year, $1.2 million grant from the Wisconsin Partnership Program, is called Increasing Indigenous Representation in Medicine Through Academics Engagement and Innovation (IIMAGIN).
Through the program, educators will focus on building and sustaining student interest in health care careers prior to and during high school. Other objectives include improving recruitment and retention of indigenous medical students, establish an American Indian/Alaska Native pre-faculty and development pathway, and develop new American Indian/Alaska Native health and medical curriculum offerings.
"American Indians remain significantly underrepresented in medicine and health professions, and IIMAGIN will help us pursue innovative recruitment and retention strategies to address critical health care workforce needs as well as support future students, faculty and providers," says Dr. Thompson. "Ultimately, through this work, we will improve health care for the patients and communities who will be served by these future health professionals."
Banner: Dr. Thompson speaks at a public event. Credit: Clint Thayer/Department of Medicine.