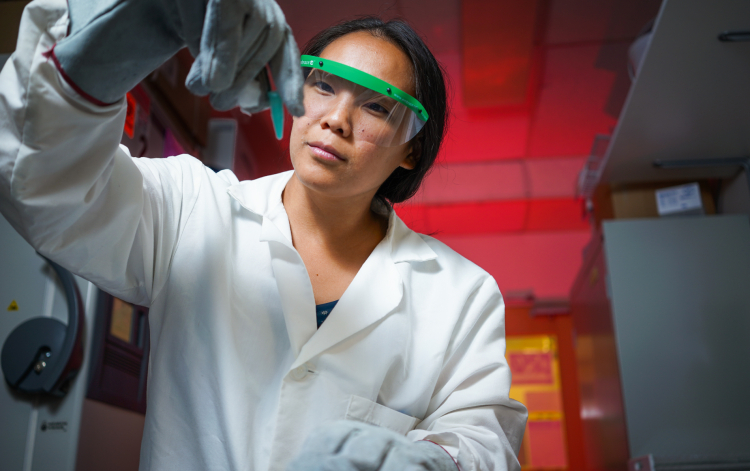 As the 94th year in the history of the University of Wisconsin-Madison Department of Medicine, 2018 saw both changes and ongoing commitment to our long-standing legacy.
This selection of images by Clint Thayer shows a behind-the-scenes glimpse into daily lives of department members dedicated to clinical care, research, and training the next generation of physicians.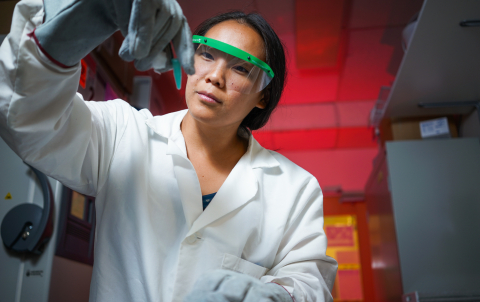 Above: Alzheimer's disease scientist Rachel Krause, MS, research specialist, Geriatrics and Gerontology, processed a sample of cerebrospinal fluid for biomarker research in July.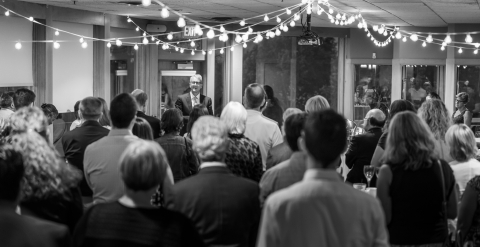 Above: In September, the department bid farewell to Richard Page, MD, who presided as chair of the department from 2009 through 2018. He currently serves as dean of the Larner College of Medicine at the University of Vermont.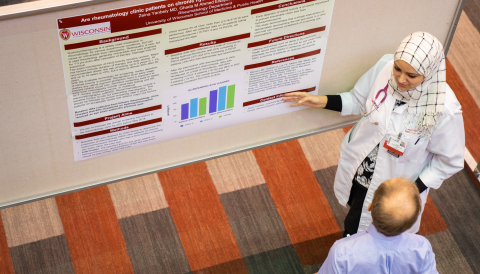 Above: Rheumatology fellow Ghada Ahmed Elsayed, MD discussed her quality improvement project with Kevin McKown, MD, professor and chief, Rheumatology at an annual QI Showcase event in May.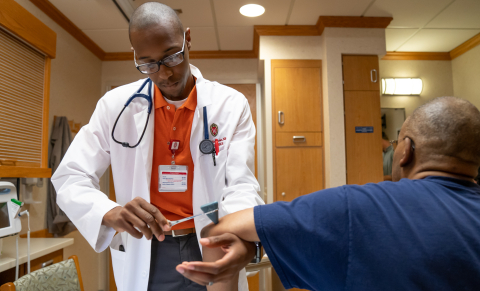 Above: Nygil Matthews, DNP, Geriatrics and Gerontology, tested the reflexes of a volunteer for an Alzheimer's disease study during a clinical visit in the summer.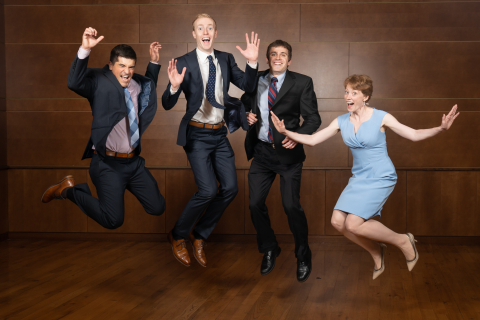 Above: During the Internal Medicine Residency Program graduation ceremony, outgoing chief residents showed off their best leaping technique. From left to right: Peter Kleinschmidt, MD; Scott Saunders, MD; Kevin Wenzke, MD; Amber Hertz-Tang, MD, MPH.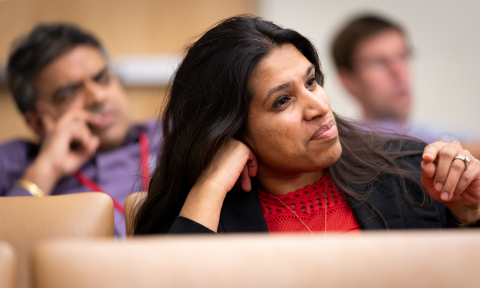 Above: Sumona Saha, MD, MS, associate professor (CHS), Gastroenterology and Hepatology, listened to a clinical research presentation during the David Wissler Memorial Research Competition in May.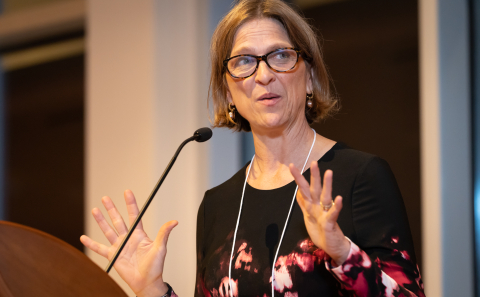 Above: Interim chair Betsy Trowbridge, MD, Phillip August and Sarah Neely Herrmann Professor in General Internal Medicine, presided over the 13th annual Department of Medicine Faculty Dinner and Awards Ceremony on October 3, 2018.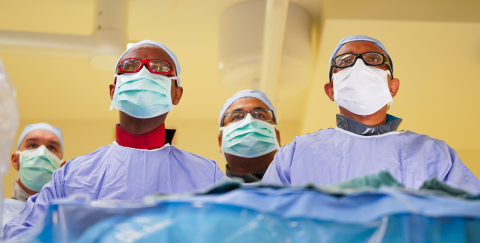 Above: Members of the multi-disciplinary UW Health Heart Team paused during a Transcatheter Aortic Heart Valve Replacement (TAVR) procedure, eyes gazing upward at a monitor showing the progression of an artificial aortic heart valve being guided into place. Left to right (foreground): interventional cardiology fellow Tesfaye Telila, MD; Amish Raval, MD, associate professor, Cardiovascular Medicine; interventional cardiology fellow El-Sayed Mohamed, MD.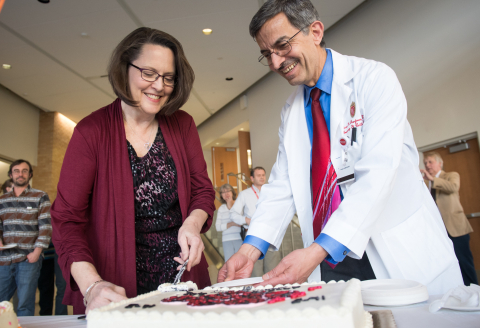 Above: Retiring in May after 30 years devoted to eosinophil research, Elizabeth (Becky) Kelly, PhD (left), distinguished scientist, Allergy, Pulmonary and Critical Care Medicine, shared cake and celebration with Nizar Jarjour, MD (right), professor and chief, Allergy, Pulmonary and Critical Care Medicine and holder of the Jeffrey Grossman Chair in Medical Leadership.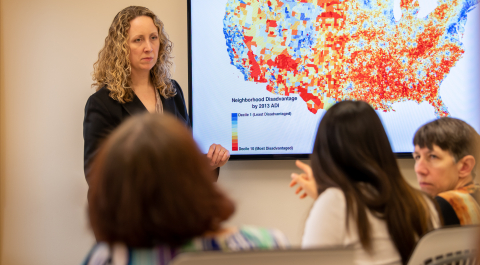 Above: Amy Kind, MD, PhD, associate professor, Geriatrics and Gerontology, listened to discussion during a meeting of the Health Services and Care Research Program in April. Two months later the team launched the Neighborhood Atlas, an online, interactive map of more than 70 million ZIP+4 codes so that researchers and clinicians can find data on socio-economic factors at the neighborhood level.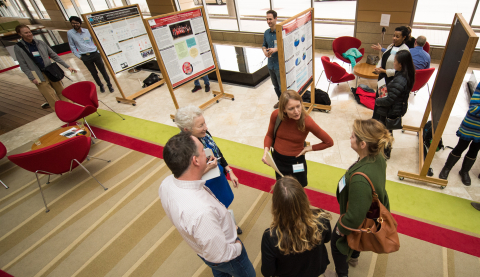 Above: Attendees of the Alzheimer's Disease and Related Disorders Research Day in March gathered during the scientific poster session at the Discovery Building at UW-Madison.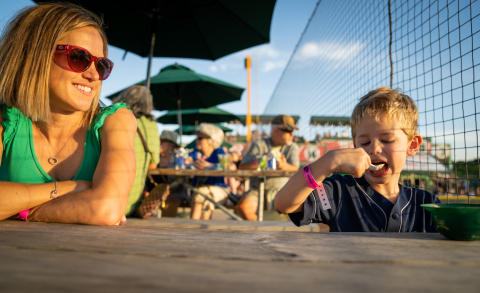 Above: A sunlit evening in June was the perfect setting for a family-friendly Division of General Internal Medicine gathering at a Madison Mallards baseball game.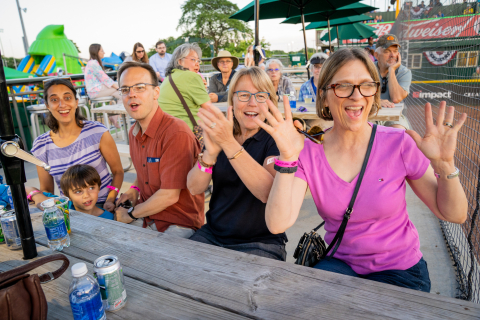 Above: Enjoying a casual summer evening, family and Division of General Internal Medicine faculty members alike react to the Madison Mallards baseball team scoring during a home game in June.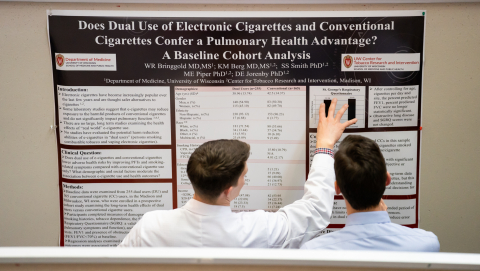 Above: During Department of Medicine Research Day in June, researchers discussed a clinical study by members of the UW Center for Tobacco Research and Intervention.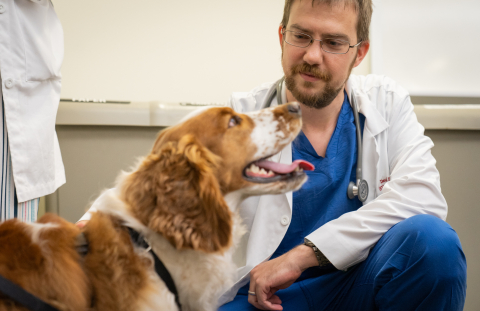 Above: Internal medicine resident David Hess, MD enjoys a quiet moment in May with a canine ambassador from Dogs On Call, a nonprofit animal therapy organization.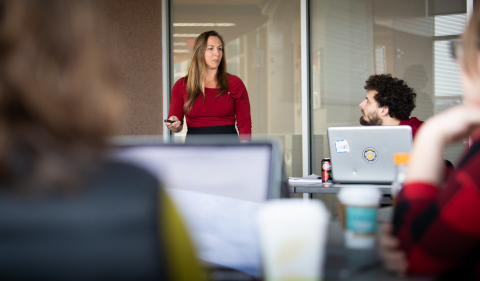 Above: Michelle Kimple, PhD, associate professor, Endocrinology, Diabetes and Metabolism teaches medical students during a class in April. Dr. Kimple serves as Phase 3 Basic Science Selective Director for the ForWard MD curriculum.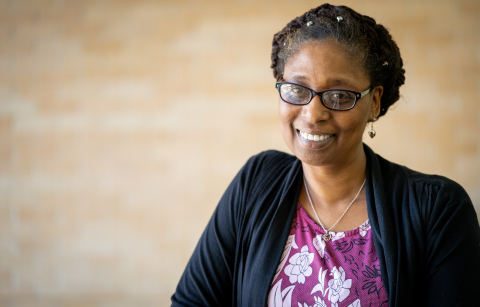 Above: Endocrinology fellowship coordinator Molinda Henry, M.Ed., was profiled in May for an "Everyday Remarkable: Behind the Scenes with Staff" column article.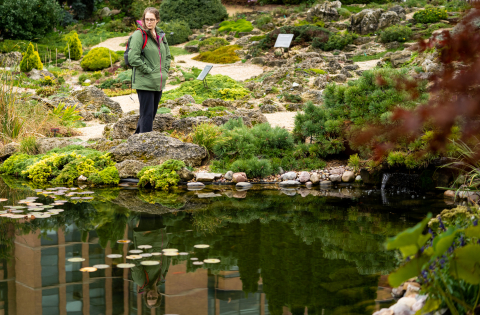 Above: Internal medicine resident Victoria Gillet, MD paused to reflect during an outdoor session of an Empathy Course that met in the Allen Centennial Garden at UW-Madison in October.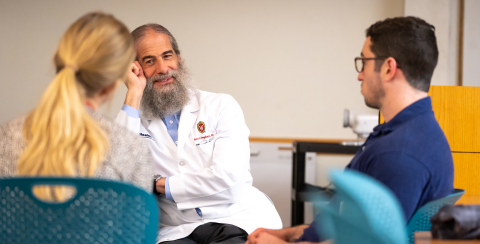 Above: Bennett Vogelman, MD, professor (CHS), Infectious Disease and director of the Internal Medicine Residency Program listened to residents during a meeting in April.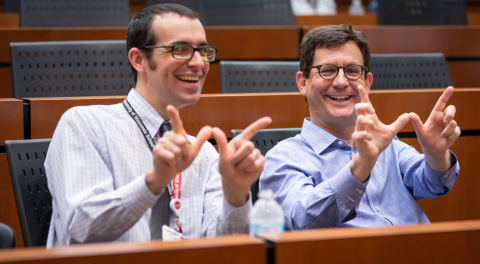 Above: Division administrator Jason Weitzman (left) and division chief Vincent Cryns, MD (right) showed their Badger pride during the annual Department of Medicine Town Hall in May.