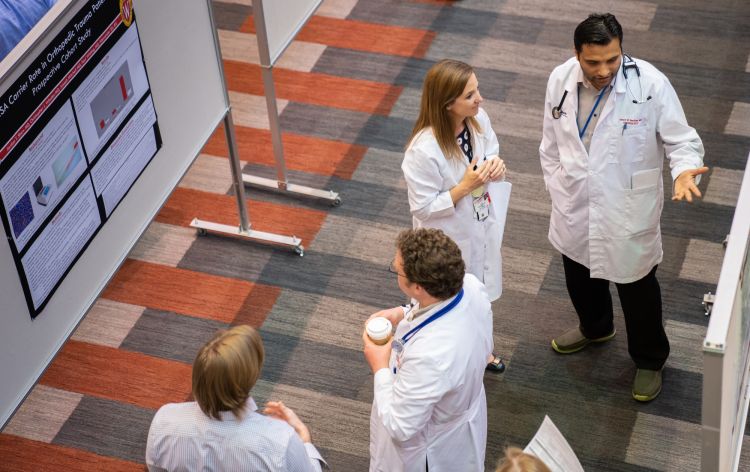 On May 11, 2018, learners from across all medical science disciplines at UW gathered to share the results of their work on quality improvement (QI) projects. The half-day event provided a chance for medical students, residents, and fellows to present QI studies, receive feedback from colleagues and mentors, and hear a keynote address from about quality measurement in healthcare from John Scarborough, MD, associate professor, Department of Surgery.
Sponsors of the event included the UW Resident Quality & Safety Council, UW Health Department of Quality and Safety Improvement, UW Health Office of Graduate Medical Education, the Department of Medicine, and the UW House Staff Association.
"The annual showcase of the DOM Fellowship QI projects provides an opportunity for the fellows to display their work, discuss successes and challenges with leaders across the institution and is a wonderful way to conclude they work that has been done over the year," said Laura Maursetter, DO, associate professor (CHS), Nephrology and General Nephrology fellowship program director.
From Dr. Maursetter's perspective, the process of participating in QI projects is transformational for learners and educators alike. "I am inspired to see fellows who find a gap in the care we provide at UW Health and in are energetic at changing a practice to make a difference for the patients. It is an amazing transformation when the learner becomes a leader for the project," she said.
This sentiment was echoed by cardiovascular medicine fellow Asif Jafferani, MD."The QI Curriculum was very helpful in navigating through the process of engaging in a quality improvement project during fellowship," he said. "It was particularly rewarding to see improvements in the quality of care delivered to the patients as a result of this exercise and would go a long way to inform my future clinical practice in Cardiovascular Medicine."
Award winners and project titles are:
Best Overall Quality Improvement Project
Utility of Routine Post-Operative Esophagram Following Esophageal Atresia Repair -Brooks Rademacher, MD, Tiffany Zens, MD Amin Afrazi, MD, PhD, Keon-Young Park, MD, PhD, Charles Leys, MD, Hau Le, MD(General and Pediatric Surgery)
Best Quality Improvement Project In-Progress
Support With a KISS: Building Confidence In Sick Day Management in Pediatric Patients With Type 1 Diabetes and Their Families -Elizabeth Mann, MD, M. Tracy Bekx, MD, Allison Pollock, MD(Pediatric Endocrine)
Best Quality Improvement Project That Aligns With UW Health Patient Safety Goals
MRSA Carrier Rate in Orthopedic Trauma Patients – A Prospective Cohort Study -Jordan Shaw, MD, Christopher Whalen, MD, Joseph Mitchell, MD, Paul Whiting, MD, Alexander Siy, BS(Orthopedic Surgery)
For a full list of project titles and presenters, click here.