At the University of Wisconsin Department of Medicine, women physicians lead and succeed at every stage of their careers. 
Our residents work side-by-side with some of the most influential women in medicine in the nation, including preeminent researchers, influential academic leaders, talented medical educators, and physicians who have established groundbreaking clinical programs.
Collaborative mentors abound, characterized by both Midwestern approachability and a deep commitment to trainees. They're moving the future of medicine forward—and bringing our residents with them.
A Culture of Success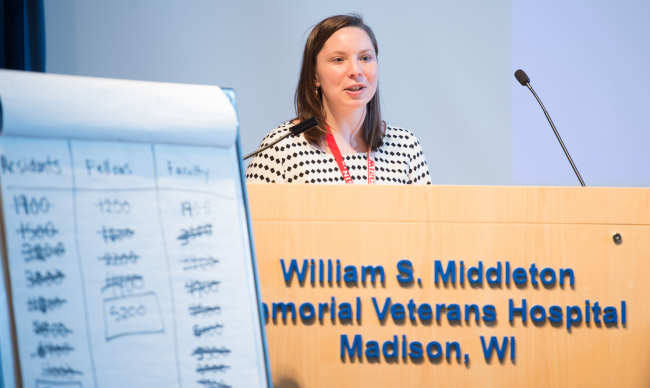 Women physicians find collaboration and success at the UW Department of Medicine. 
Many former women residents have been successfully mentored and are now tenured faculty members leading major multidisciplinary research programs. They in turn are now fostering the careers of the next generation of women physicians.
Our department is chaired by a woman, as are three of our largest divisions: General Internal Medicine; Hematology, Medical Oncology and Palliative Care; and Hospital Medicine.
Women in our department direct clinical inpatient and outpatient services, fellowships, key portions of the residency program, including individual resident mentorship and several medical school courses and mentoring programs.
Women faculty members in the Department of Medicine hold two of our Vice Chair positions, and two Associate Dean positions at the UW School of Medicine and Public Health.
In FY20, research funding to female principal investigators in the department totaled over $35 million.
Since 2010, two thirds of our chief medical residents have been women.
In 2020, 11 of the 27 departments in the School of Medicine and Public Health are led by women, exceeding the national average.
Read news articles about achievements by women in the UW Department of Medicine.
Resources for Women in Academic Medicine
Fellowships, Institutes, Programs & Centers
Training in Women's Health
There are numerous opportunities for internists who wish to pursue enhanced training in women's health, facilitated by the strong relationship between the university and the William S. Middleton Memorial Veterans Hospital. Examples include clinical training at the Women Veterans Health Clinic, ambulatory care training in women's health at the UW Health West Clinic, and clinical training in outpatient gynecology, high risk obstetrics, student health, osteoporosis management and gastrointestinal disorders in pregnancy.
Faculty Mentors