Image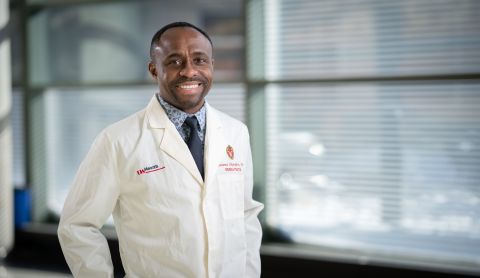 Exercise, Genetics, Hormones, and Brain and Cognitive Health
With a focus on fitness and its role in aging and Alzheimer's disease, Dr. Ozioma Okonkwo leads the Modifiable and Non-Modifiable Factors Linked to Cognitive Resilience in AD lab. The lab focuses on clarifying how alterations in the brain and other biomolecules (such as cerebrospinal fluid β-amyloid) place some cognitively-normal individuals on a pernicious trajectory that culminates in Alzheimer's dementia.
In this context, the lab is also interested in discovering new knowledge concerning the modulation of the link between brain changes and cognitive decline by both modifiable factors like cognitively-stimulating activities or physical exercise and non-modifiable factors such as genetic vulnerability.
Active Research Projects:
EXERT Study, an NIH-funded Phase III clinical trial of the effects of exercise training on brain and cognitive health in persons with mild cognitive impairment.
LIFE (Longitudinal Impact of Fitness and Exercise) Study, an NIH-funded study on the impact of physical activity and aerobic fitness on biomarkers of Alzheimer's disease in midlife.
GenEX (Genetics and Exercise) Study, an NIH-funded study examining how specific genetic and lifestyle factors interact to protect brain health and cognitive function in people at risk for Alzheimer's disease.
FAB-FU (Fitness, Aging, and the Brain – Follow Up) Study is a foundation-funded longitudinal study investigating how changes in aerobic fitness and physical activity track with concurrent changes in brain health
ESTRADIOL Study is an NIH-funded study designed to understand the role of estradiol and related hormones on inflammation, sleep, and risk for Alzheimer's disease.