Image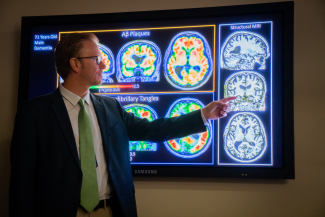 Detection, cognitive changes, biomarker evidence of AD and dementia
Clinically-oriented objectives include detection of AD pathology in the preclinical phase of disease, identify AD-related cognitive changes that are separable from normal aging, predict with greater certainty who will progress to dementia in people who have biomarker evidence of preclinical AD, characterizing large-scale brain functional and structural patterns that may be associated with cognitive outcomes and the role of individual differences in risk and resilience characteristics, identifying modifiable factors that may prevent or slow the onset of AD dementia including lifestyle behaviors such as diet, physical activity, cognitive activity, and sleep, and developing imaging markers as potential outcome measures that can be applied to prevention and treatment trials.
Cognitive neuroscience objectives include identifying neural systems involved in memory encoding and retrieval, understand how tau and amyloid burden affect brain function and connectivity, and develop new methods for detecting subtle cognitive and brain dysfunction that represent early manifestation of AD.
Under the direction of Dr. Sterling Johnson, the Biomarker core of the Wisconsin Alzheimer's Disease Research Center is focused on discovering new knowledge about how the brain changes in aging, Alzheimer's disease (AD), and related dementias. The lab focuses on presymptomatic detection of disease and biological and lifestyle factors that confer risk and resilience, using MRI and PET neuroimaging techniques, fluid biomarkers, cognitive measurement, genetic and laboratory tests -  together with computer vision techniques - to identify AD presymptomatically and determine the lifestyle and genetic factors that confer risk and resilience to eventual symptoms. Cutting edge molecular tau and amyloid imaging and fluid biomarker techniques together with neurobehavioral measurements are used to study how AD begins and what can be done to prevent it.