Image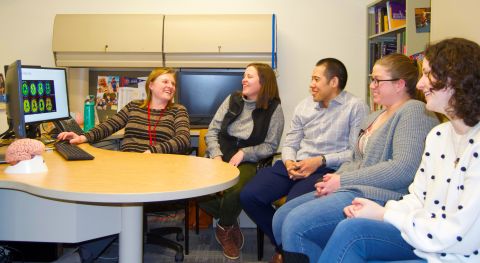 Early detection and progression of cognitive impairment 
Dr. Lindsay Clark leads a research program with interests including investigating relationships among Alzheimer's disease biomarkers, midlife vascular risk factors, and cognitive decline, improving the reliability and ecological validity of measures to identify subtle cognitive decline, and developing strategies for safe disclosure of sensitive biomarker-related information to research participants and patients.
Clinical research interests of Dr. Clark include investigations into the early detection of cognitive impairment due to Alzheimer's disease, cerebrospinal fluid and neuroimaging biomarkers of Alzheimer's disease, and racial disparities in cardiovascular risk factors and cerebrovascular function.
Dr. Clark serves as staff neuropsychologist in the Madison VA GRECC Teleneuropsychology Service and Cognitive Care Clinic. She is an investigator with the Wisconsin Alzheimer's Disease Research Center (WARDC) and the Wisconsin Registry for Alzheimer's Prevention (WRAP) and supports the WADRC neuropsychology service.