Image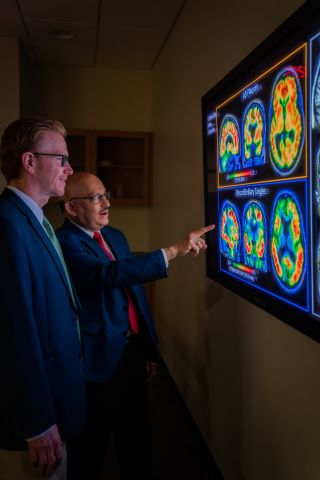 Psychopharmacology and Neuroendocrinology
Dr. Sanjay Asthana's research program is diversified across clinical psychopharmacology and neuroendocrinology of gonadal steroids and cholinergic drugs in Alzheimer's disease (AD) and healthy aging using neuroimaging and biofluid biomarkers to examine the potential effects of hormones on AD pathobiology.  Dr. Asthana also has a strong focus on design of human clinical trials in Alzheimer's and collaborates extensively on studies of preclinical biomarkers of AD.
Currently, Dr. Asthana leads a study involving the world-renowned Wisconsin Longitudinal Study (WLS) that targets the study of life course, intergenerational transfers and relationships, family functioning, physical and mental health, and morbidity and mortality from late adolescence through midlife and old age in 10,000 randomly selected sample of high-school graduates of Wisconsin in 1957. Dr. Asthana's study, involving over 6,000 WLS participants, will examine the potential relationship between life-long exposure to various socioeconomic and environmental factors and risk and resilience to AD and related disorders. Results from this study will be the first to demonstrate the effects of social determinants on AD risk in a randomly selected, population-based population. Future potential studies, pending NIH review and funding, relate to the effects of testosterone on neuroimaging and biofluid biomarkers of preclinical AD in older hypogonadal men at risk for AD.
Dr. Asthana is the founding director of the Wisconsin Alzheimer's Disease Research Center and holds myriad leadership positions at the University of Wisconsin. Dr. Asthana also sees patients in the UW Health Memory Assessment Clinic, specializing in assessing and diagnosing patients with Alzheimer's disease and related dementias.