Mohun Ramratnam, MD | Cardiac Metabolism and Pathways
Image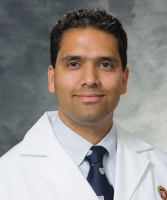 Mohun Ramratnam, MD, is an interventional cardiologist and physician-scientist whose research focuses on understanding cardiac metabolism and its impact on human health. He runs a translational research program that seeks to uncover and target novel metabolic pathways for the treatment of cardiovascular disease.
New Treatments for Ischemic Heart Disease 
Ischemic heart disease is prevalent, costly, and deadly. Despite major advances in medicine, it remains a large burden to society. Dr. Ramratnam's laboratory studies important pathways in mitochondrial and metabolic physiology to discover novel therapies for ischemic heart disease.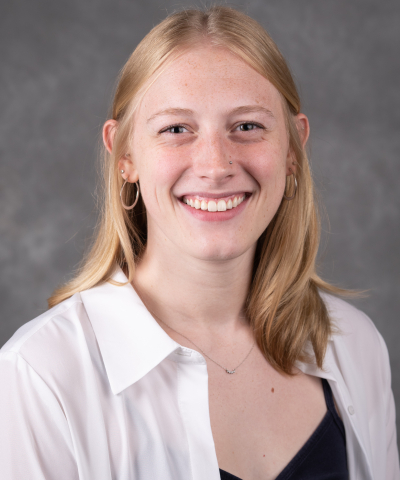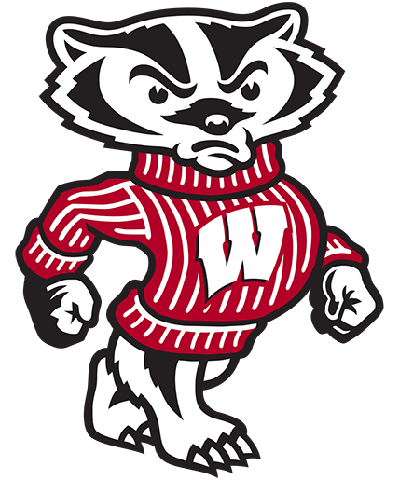 Image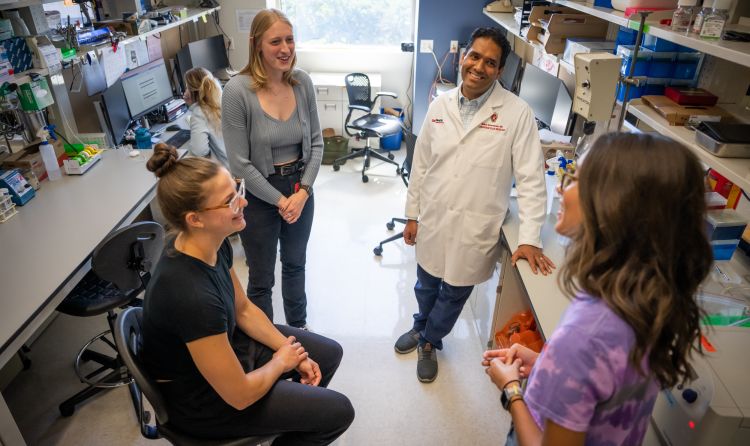 Active Projects
Targeting the Mitochondrial Sulfonylurea Receptor for Cardio-Protection

The cardiac sulfonylurea receptor is a regulator of cardiac metabolism. Recently, a unique splice variant was identified in mitochondria. Dr. Ramratnam's laboratory studies the mitochondrial sulfonylurea receptor isoform and its role in cardio-protection.

The Physiologic Significance of the ROMK Channel in Heart

The renal outer medullary potassium channel (ROMK) is an ATP sensitive inward rectifying potassium channel. While originally found in kidney tissue, the channel also resides in the mitochondria of heart. However, the physiologic significance of heart ROMK is unknown. Activation of an ATP sensitive mitochondrial potassium channel in heart promote cardio-protection. Thus, my laboratory seeks to understand if ROMK is a mediator of cardio-protection.

Isolating and Studying Endothelial Cell From Humans

Endothelial cell dysfunction is a main contributor to vascular disease. While cellular and animal models continue to elucidate their role, human models would greatly benefit this research arena. My laboratory seeks to isolate endothelial cells during percutaneous vascular procedures in order to promote translational research.
Publications
Ramratnam M, Kenny B, Kyle JW, Wiedmeyer B, Hacker TA, Barefield DY, McNally EM, Makielski JC. Transgenic overexpression of the SUR2A-55 splice variant in mouse heart reduces infract size and promotes protective mitochondrial function. Heliyon. 2018 Jul 4;4(7):e00677. doi: 10.1016/j.heliyon.2018.e00677. PMID: 29998196; PMCID: PMC6037880.
Li Z, Agrawal V, Ramratnam M, Sharma RK, D'Auria S, Sincoular A, Jakubiak M, Music ML, Kutschke WJ, Huang XN, Gifford L, Ahmad F. Cardiac sodium-dependent glucose cotransporter 1 is a novel mediator of ischaemia/reperfusion injury. Cardiovasc Res. 2019 Sep 1;115(11):1646-1658. doi: 10.1093/cvr/cvz037. PMID: 30715251; PMCID: PMC6704393.
Aubert G, Barefield DY, Demonbreun AR, Ramratnam M, Fallon KS, Warner JL, Rossi AE, Hadhazy M, Makielski JC, McNally EM. Deletion of Sulfonylurea Receptor 2 in the Adult Myocardium Enhances Cardiac Glucose Uptake and Is Cardioprotective. JACC Basic Transl Sci. 2019 Apr 29;4(2):251-268. doi: 10.1016/j.jacbts.2018.11.012. PMID: 31061927; PMCID: PMC6488756.
View Dr. Mohun Ramratnam's publications on NCBI My Bibliography
Image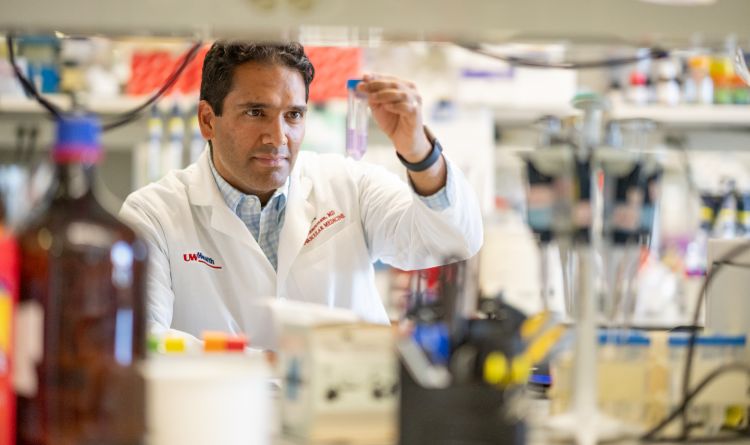 Positions Available
We are currently seeking undergraduates or graduate students interested in laboratory research. If you are interested in joining the group, please send your CV and a brief description of your research experience and interests to Dr. Ramratnam at mramrat@medicine.wisc.edu.
Funding Support
Dr. Ramratnam is funded by a VA Biomedical Science Career Development Award and through support from the University of Wisconsin Division of Cardiovascular Medicine.
Make a Gift
Help support our research by making a gift to support VA research through CARES or non-VA research through the University of Wisconsin Cardiovascular Research Center Fund.