Welcome to Research in the Department of Medicine
Whether at the laboratory or at the computer, researchers at the University of Wisconsin–Madison tackle some of the most vexing problems in medicine. They lead laboratory-based biomedical research programs to investigate the cellular and molecular underpinnings of disease, clinical trials to test new therapies and tests, and health services research programs to improve the effectiveness of health care systems. Our faculty also lead NIH-funded training programs that provide formal research training for predoctoral and postdoctoral students. In FY19, our department had $109.2 million in extramural grant awards, which represents nearly one-third of extramural awards to the UW School of Medicine and Public Health, and approximately one-ninth of total extramural awards to UW–Madison. Our department is also currently ranked 15th in the nation for National Institutes of Health funding awards to departments of internal medicine, according to the Blue Ridge Institute for Medical Research.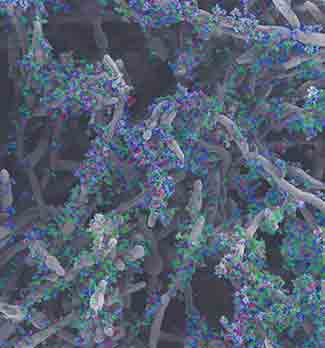 Pictured is a scanning electron micrograph of a Candida albicans biofilm. The extracellular matrix is false colored in blue, red, and green, representing the three collaborative polysaccharides. Work by Mitchell et al reveals that these components physically interact, and are each required for matrix structure and function.
Community participation in biofilm matrix assembly and function.
Mitchell KF, Zarnowski R, Sanchez H, Edward JA, Reinicke EL, Nett JE, Mitchell AP, Andes DR. Proc Natl Acad Sci U S A. 2015 Mar 31;112(13):4092-7.
---