Welcome to Research in the Department of Medicine
OVERVIEW: The research faculty of the UW-Department of Medicine has a strong history of research advancement. In addition to exciting new research endeavors, including the creation of a new translational research institute and current trend towards an increase in Health Services Research, many faculty members hold scientific leadership positions. They participate in the peer-review process for grants and manuscripts, teaching and mentoring, preparation of clinical guidelines, and in the writing of book chapters or review articles. Departmental research is especially strong in the areas of asthma, geriatrics, and cardiovascular medicine. For more details about the types of research within the department or by division please click on the links below.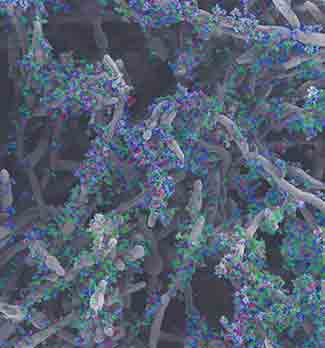 Pictured is a scanning electron micrograph of a Candida albicans biofilm. The extracellular matrix is false colored in blue, red, and green, representing the three collaborative polysaccharides. Work by Mitchell et al reveals that these components physically interact, and are each required for matrix structure and function.
Community participation in biofilm matrix assembly and function.
Mitchell KF, Zarnowski R, Sanchez H, Edward JA, Reinicke EL, Nett JE, Mitchell AP, Andes DR. Proc Natl Acad Sci U S A. 2015 Mar 31;112(13):4092-7.
---