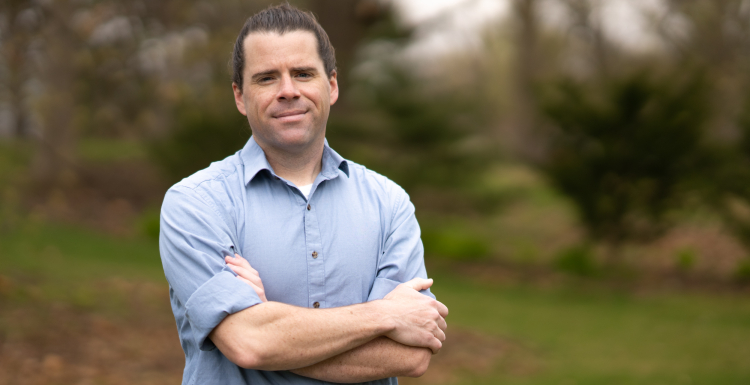 John Davis, MD
Bridges Family Endowed Chief Resident

What's next for you, personally and professionally?  
I'm starting a pulmonary and critical care fellowship here at University of Wisconsin this coming July. I came into residency somewhat undifferentiated but training during the COVID-19 pandemic ultimately convinced me this was the subspecialty I belonged in. I was lucky enough to be able to stay here at UW and my wife Rachael and I are grateful for that. I'm looking forward to trading chief resident problems for the problems of a pulmonary fellow. 
   
What are the main takeaways from your time as chief resident?  
The year was a great opportunity to focus on growing as a clinician and educator, and to spend time working to help support residents personally and professionally. The chief year provided a lot of perspective on the residency experience that I didn't quite grasp during prior years, and I think that perspective has made me a more well-rounded person. The year also gave me many opportunities to be supportive and kind to colleagues who are in a stressful and challenging time of their lives; I'm sorry for those times I fell short and grateful for those times that I didn't. 
   
What advice/words of encouragement do you have for a) the incoming chiefs, b) the incoming interns, and c) residents who are considering applying for chief residencies next year?  
To incoming chiefs: Abandon the idea of ever being "done" or "finished." There will always be things on the to-do list. Most things can wait while you spend time on things that are fulfilling. Those things that can't wait will be easy to recognize. To incoming PGY-1s: you'll learn so much over the next year just by showing up and trying your best. Doctoring isn't a set of instincts; the best physicians you know needed to learn how to do the things they do. To possible future chief residents: the chance to work with Andy, the APDs and the residency education team is too good to pass up! The bond you forge with your co-chiefs is a special thing and something I wouldn't trade for anything. Plus, chief year is an opportunity to get really good at Google Sheets and Powerpoint. 
   
Is there anything else you'd like to share, whether they're shout-outs or memories?  
I'm very grateful to everyone who's taken a chance on me over the years here at UW: first the medical school, then the IM residency, now the Pulm/CC fellowship and the Department of Medicine. I've been very lucky for the opportunities that I've had in Madison and hope that I can continue to make the most of them. Shout outs to Sarah, Gabby, Nadia, Andy and everyone else who put up with me this year. I'm sure I'll see you all around; make sure you say hello.