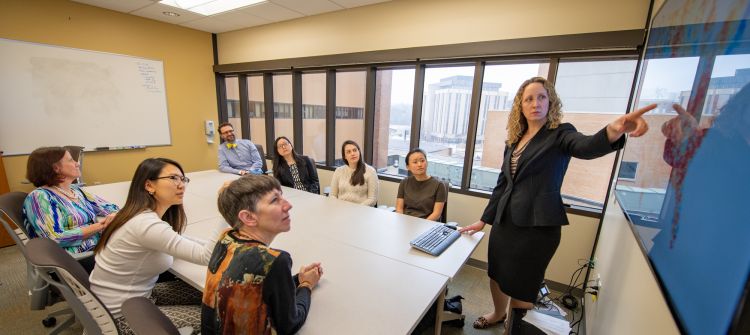 Last week, Alzheimer's disease researchers gathered at the Alzheimer's Association International Conference, the largest and more prestigious conference for Alzheimer's disease. Over 80 researchers from UW–Madison presented their work, including many from the Department of Medicine.
 "We will collaborate with other scientists and come back to launch new projects with the goal to eventually learn how to control this dreaded disease and one day find a cure," Sanjay Asthana, MD, chief, Geriatrics and Gerontology, says of the conference.
Amy Kind, MD, PhD, professor, Geriatrics and Gerontology gave a plenary address at the conference, discussing the social determinants of health and how they could impact brain health in different populations using the Neighborhood Atlas.
Other department presentations included Leonardo Rivera-Rivera, PhD, assistant scientist, Geriatrics and Gerontology, discussing the connection between blood vessels and brain health, and Tobey Betthauser, PhD, MS, assistant professor, Geriatrics and Gerontology, who presented on the influence genetic factors have on the age when Alzheimer's disease begins.
Banner photo, Amy Kind, MD, PhD, presents the Neighborhood Altas in 2018. Credit: Clint Thayer/Department of Medicine.