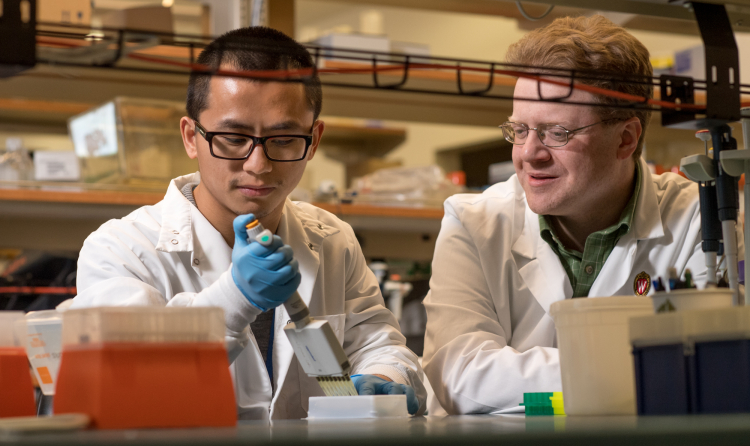 For more than half a century, an annual scientific meeting has focused on nurturing the next generation of medical researchers in the Midwest. In April 2018, it was attended by a cadre of early-career researchers from the Department of Medicine, many of whom received awards and travel grants in recognition of their work.
At the 51st annual meeting in Chicago, Illinois, two professional societies provided a forum for students, trainees, and assistant or associate professors to present their research to a multi-specialty field of attendees. "The meeting is a perfect fit for young scientists to present their translational research, because it's very focused on providing opportunities for interaction between early-career and senior investigators," said Dudley Lamming, PhD, assistant professor, Endocrinology, Diabetes and Metabolism.
The meeting is jointly produced by the Central Society for Clinical and Translational Research (CSCTR), which bills itself as one of the oldest and largest academic medical societies in the Midwest, and the Midwestern Section of the American Federation for Medical Research (AFMR), which aims at fostering excellence in training and successful development of young medical research investigators. This year's meeting was organized by Dawn Belt Davis, MD, PhD, associate professor, Endocrinology, Diabetes and Metabolism and chair of the Midwest chapter of AFMR.
"The mission of these societies is to foster the development of the next generation of clinical and translational researchers. Through career development seminars and networking opportunities, this meeting is an outstanding opportunity for trainees and junior faculty to participate in a multi-disciplinary meeting that will inspire new ideas and collaborations between fields," said Dr. Davis.
Deyang Y. Yu, research assistant, Endocrinology, Diabetes and Metabolism, received an Oral Abstract Award for his work on the role of adipose mTORC2 in longevity and the response to calorie restriction under the direction of Dr. Lamming.
"A lot of attendees were excited about my studies after my presentation; many spoke highly of the significance of the study and also provided helpful suggestions to strengthen the study," said Yu. In turn, Yu was intrigued by new research discussed at the conference that suggested that time-restricted feeding could be an important approach for preventing and treating metabolic disease.
Work by UW-Madison scientists is highly regarded in general, he added. "The research on islet biology is a niche for UW and has gained a lot of attention."
Endocrinology fellow Rowan Karaman, MD, received a travel award to present a poster entitled "The Metabolic Response to Reduced Branched-Chain Amino Acids in Humans." He talked with many attendees who were interested in recent studies conducted by Lamming laboratory members on the effects of a low branched-chain amino acid diet in mice and humans.
Dr. Karaman found the conference to be valuable in other ways as well, with discussions focused on topics such as mentorship, effective communication, and strategies for publishing in peer-reviewed journals. "It was a great space to connect with others that are outside of your field of interest and to gain knowledge about more than just science," he said. 
Jacqueline Brinkman, a former research intern in the Lamming laboratory, attended the meeting with support of a trainee travel award to present her poster entitled, "Hypothalamic mTORC2 regulates metabolic homeostasis." She found one lecture on an innovative, pragmatic approach to improving health care services to be particularly compelling. "One talk given by Jerry Krishnan, MD, PhD, regarding Comparative Effectiveness Research was very impressive and one of the only policy-based presentations. Specifically, Dr. Krishnan and his team developed the CHICAGO Plan which aims to improve the quality of care asthmatic children receive during ED (emergency department) admission and after discharge," she said.
Additional trainee travel awards were granted to Davis laboratory members Joseph Blumer (research intern) and Hung Tae Kim (research assistant) for their poster presentations on "Tcf19, a novel diabetes gene, regulates stress response pathways in the pancreatic b-cell" and "Cholecystokinin protects INS-1 cells and human islets from cytokine-mediated apoptosis." Also in attendance from the Davis laboratory was Grace Yang, research assistant. From the Lamming laboratory, research assistant Nicole Cummings and research assistant Heidi Pak also received trainee travel awards and presented posters. Medical student Gisele Toumi received a trainee travel award and presented work she conducted as during the Shapiro Summer Research Program under the mentorship of Vincent Cryns, MD, professor and head, Endocrinology, Diabetes and Metabolism. Natalie Guerrero, who is currently a research specialist in the Division of Gastroenterology and Hepatology, was selected for a trainee travel award for her abstract on work with former department faculty member Elizabeth Jacobs, MD.
Yu encourages others to consider attending future conferences. "CSCTR is a small-scale conference but draws a lot of outstanding researchers from the country, so there are a lot of opportunities to have one-on-one conversation with some pioneering researchers on many cutting-edge research topics in important disciplines of biology and medicine."
Resources:
CSCTR and AFMR Combined Annual Meeting
Photo (top): Research assistant Deyang Yu (left), received an oral abstract award to present his research performed under the direction of Dr. Dudley Laming (right) at the 51st Annual Combined Meeting of the Central Society for Clinical and Translational Research and the Midwestern Section of the American Federation for Medical Research. Photo credit: Clint Thayer/Department of Medicine