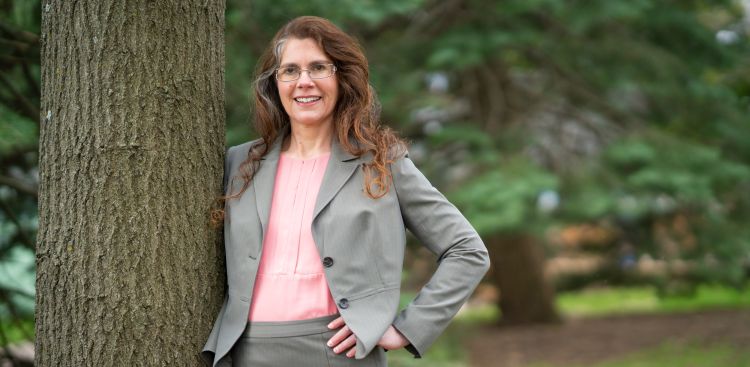 Toni Hofhine, division administrator, Geriatrics and Gerontology, received a UW–Madison Administrative Improvement Award for her leadership in two risk management projects for the Division of Geriatrics and Gerontology.
Hofhine credits her team in Geriatrics and Gerontology and the partnership with Department of Medicine IT (DOM IT) for believing in her ideas and helping to make them possible.
"I'm appreciative of the honor…the team dynamic and hard work are what made this possible," she says.
The first project Hofhine initiated, an undertaking of over two years, entailed converting the process of clinical trial paper data entry to direct data entry into an electronic database, REDCap™. With the switch to the REDCap™ system, there was an improvement in workflow that resulted in 80% fewer quality control issues.
"The duplication of errors was significantly reduced, and getting that buy-in [from the team] was a significant achievement because staff understood the benefit of entering the data as you see it," Hofhine says.
In addition to improving the storage of data, she worked to improve the storage of biospecimens.
The second project Hofhine led was implementing a risk management process for biospecimen freezers, containing invaluable human and animal samples, in the event of a freezer failure. This year-long project included creating emergency storage space and an organized emergency plan that identified a primary and secondary contact for each freezer, as well as completing an emergency freezer map to identify the closest backup freezer.
Now, researchers' minds can be put to ease when collecting and storing samples, knowing there is a plan to provide emergency storage if a freezer malfunctions or failure occurs.
Hofhine's dedication and ability to recognize the potential for improvement has helped the division create long-term solutions and avoid losing valuable data and samples.
"These projects wouldn't have been possible without the energy of the team, DOM IT, and division chief, Dr. Sanjay Asthana," Hofhine says.
Learn more about the 2021 Administrative Improvement Awards from UW News.
Banner photo, Toni Hofhine. Credit: Clint Thayer/Department of Medicine.