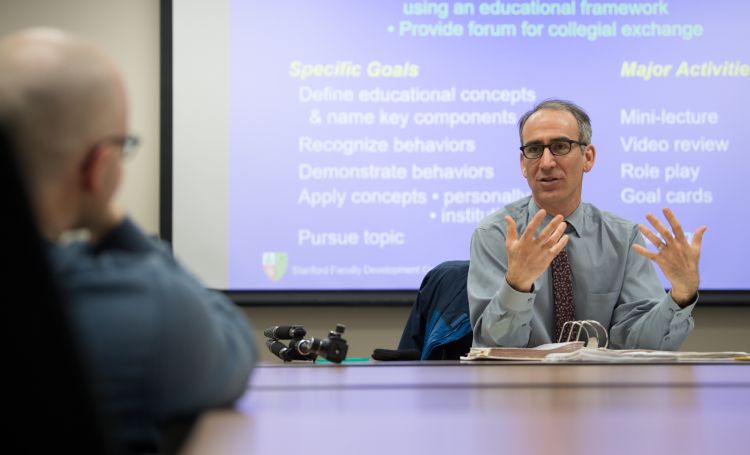 It takes years of training in medicine before becoming qualified to treat patients, so wouldn't it be reasonable to assume that clinician-educators also could benefit from formal training in education?
That's the objective of "Teaching Masters," a faculty development program led by Jeremy Smith, MD, associate professor (CHS), General Internal Medicine.
"The fundamental problem is that physicians in medical schools are told to teach without ever having been given any training in how to do it," he said. "There are techniques and strategies about how to educate other people. There are schools of education at every university across the country that study how to teach other people, but often we don't avail ourselves of that information [for teaching in the clinical setting]. We just hand over the keys and say, "You're a doctor, now go out and teach."
Medical education is a longstanding interest of Dr. Smith, and in 2003 he completed the Clinical Teaching Program offered at Stanford University. That one-month program is designed to give participants sufficient background knowledge and seminar leadership skills required to deliver a series of seven two-hour seminars to their colleagues and to residents, in a "train the trainer" model that has been propagated across the nation.
Since 2011, Dr. Smith has offered Teaching Masters two to three times a year. A total of 103 providers (MDs and a few advanced practice providers) have completed the program as of March, 2018. Of these, 88 were members of the Department of Medicine. Other represented departments include Pediatrics, Anesthesia, Family Medicine and Community Health, and Emergency Medicine. He keeps a running list of inquiries and encourages those with interest to contact him.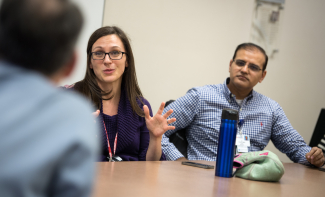 Each session opens with a mini-lecture comprising 20 to 25 minutes of didactics, a review session in which participants watch video footage of simulated teaching encounters and analyze the interactions, followed by role-playing to practice new behaviors. "I'm always surprised by the variety of experiences that we hear about in the program. The spectrum of stories that we hear about teaching challenges is very wide. But there are always common themes that come up over and over again," said Dr. Smith.
The fact that busy clinicians make time to take the course is gratifying to Dr. Smith. To minimize the time burden, there is no homework or assignments to be completed outside of class time. "Seeing clinicians carve out time to advance their professional interests and skills in education in a self-directed way reinforces that there is a hunger for this type of information."
And after more than 100 enrollees, he's seen the impact of that investment of time. "Someone wrote and said, 'This changed my professional life.' Some people have told me they are still carrying the cards we hand out with teaching tips. That really means something," said Dr. Smith.
Resources:
Clinical Teaching Program - Stanford University
Litzelman DK, Stratos GA, Marriott DJ, Skeff KM. 1998. Factorial validation of a widely disseminated educational framework for evaluating clinical teachers. Academic Medicine 73:688-95.
Skeff K. 1988. Enhancing teaching effectiveness and vitality in the ambulatory setting. Journal of General Internal Medicine 3:S26-S33.
Photo credits: Clint Thayer/Department of Medicine