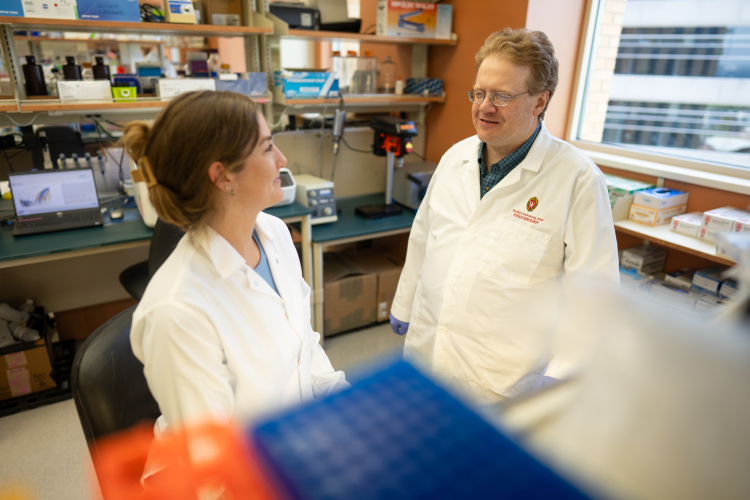 A new study published as a reviewed preprint in eLife and co-authored by Dudley Lamming, PhD, associate professor, Endocrinology, Diabetes and Metabolism, provides evidence that resistance-based strength training may protect from the metabolic risks of a high-protein diet.
"We know that low-protein diets and diets with reduced levels of specific amino acids promote health span and lifespan in animals, and that the short-term restriction of protein improves the health of metabolically unhealthy, adult humans," says the study's lead author, Michaela Trautman, a Nutritional Sciences graduate student and research assistant in Dr. Lamming's lab. "But this presents a paradox—if high dietary protein is so harmful, many people with high-protein diets or protein supplements would be overweight and at an increased risk of diabetes, whereas athletes with high-protein diets are among the most metabolically healthy."
To better understand why high protein can be damaging to one group but not the other, the researchers used a progressive resistance-based strength training program on mice. These mice were divided into two groups: one exercised by pulling progressively heavier weights down a track, and one exercised by pulling an unloaded cart. Some mice in each group were fed a high-protein diet, some a low-protein diet.
After three months, researchers confirmed that the mice on a high-protein diet using a loaded cart gained more muscle and less fat than the high-protein mice with an unloaded cart.
"This suggests that metabolically unhealthy, sedentary individuals with a high-protein diet or protein supplements might benefit from either reducing their protein intake or more resistance exercise," says Dr. Lamming.
These findings may be relevant to dietitians and others trying to understand the role of dietary protein in health.
Read more in a press release from eLife.
Banner: Research assistant and lead author, Michaela Trautman, in the lab with senior author Dudley Lamming, PhD. Credit: Clint Thayer/Department of Medicine.