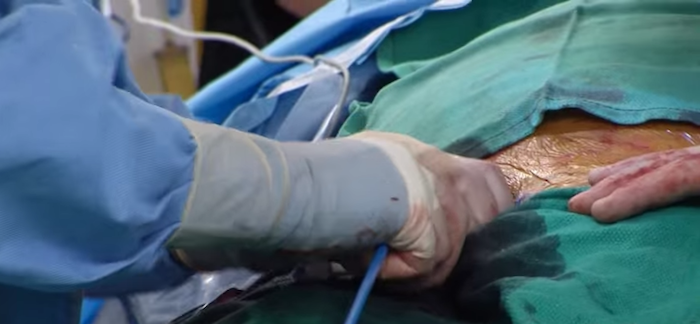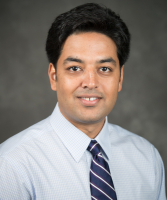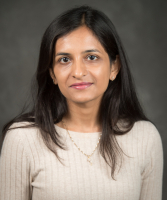 Patients who are living with advanced chronic kidney disease and severe aortic stenosis face a challenging scenario: how can valve disease be managed in a manner that will not further exacerbate their renal condition?
To answer this question, Nilay Kumar, MD (pictured at upper right), clinical assistant professor, Hospital Medicine, Neetika Garg, MD (pictured at lower right), assistant professor (CHS), Nephrology, and colleagues from five other institutions conducted an analysis of the most recent four years of data from the National Inpatient Sample, the largest database of de-identified US hospital stays developed by the Agency for Healthcare Research and Quality (AHRQ). 
By comparing more than 2,800 patients with any diagnosis of chronic kidney disease who underwent transcatheter aortic valve implementation (TAVI, also known as TAVR) to more than 4,000 patients who had surgical aortic valve replacement, researchers investigated outcomes including in-hospital mortality, postoperative stroke, acute kidney injury and acute kidney injury requiring dialysis.
Those who underwent TAVI had significantly better rates for each of these outcomes compared to patients who experienced surgical valve replacement. Additional secondary outcomes included length of stay—which also was associated with significantly better outcome for TAVI—and cost, for which no difference was found.
"These findings underscore the need to identify and implement renal protective strategies in patients with [chronic kidney disease] undergoing aortic valve replacement, including minimizing blood loss, limiting contrast volume, aggressive and timely management of hemodynamic instability and minimizing time spent on cardiopulmonary bypass," concluded researchers.
The study was published in the American Journal of Cardiology.
Resources: 
Photo caption: An analysis of data from the National Inpatient Sample indicated that patients with chronic kidney disease and aortic stenosis who underwent transcatheter aortic valve implantation (TAVI), shown in a video from UW Health, experienced better outcomes than similar patients who underwent surgical aortic valve replacement (SAVR). Image credit: UW Health