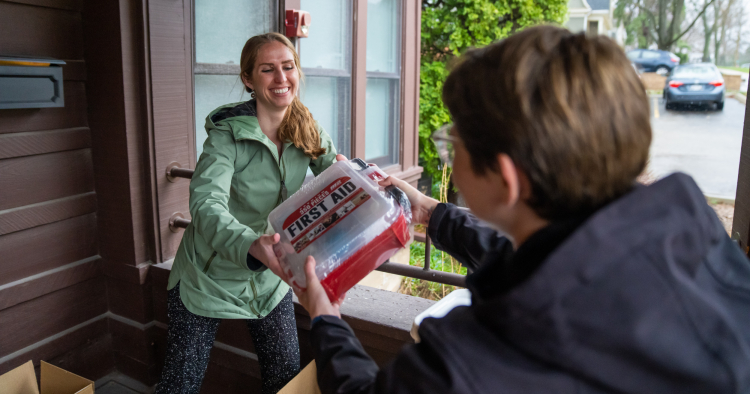 Each year, the Sheehy Family Fund supports resident projects that give back to the community and uphold medicine's core calling of service to humanity.
Philanthropic supporters of the fund include Ann Sheehy, MD, MS, associate professor, Hospital Medicine, and her parents, Gregory Sheehy, MD, and Barbara Sheehy. Dr. Gregory Sheehy is a retired internist and former General Internal Medicine faculty member. 
The fund provides annual awards of $1,000 to internal medicine residents to carry out community service projects of their choosing.
Hannah Bell, MD, assistant clinical adjunct professor, Hospital Medicine, and William S. Middleton Memorial Veterans Hospital, and program director of the Health Equity Pathway, served as a mentor for these projects.
This year's projects purchased essential medical and hygiene supplies for local non-profits and established relationships with them to continue to provide volunteer opportunities for residents.
Madison Street Medicine Initiative
For people experiencing homelessness in Madison, health and hygiene supplies can be difficult to acquire. With the Sheehy Family Fund, Rosemary Bailey, MD, PG-3, helped Madison Area Care for the Homeless (MACH) OneHealth's Madison Street Medicine Initiative (MSMI) buy and distribute health and hygiene supplies to people in need throughout the community.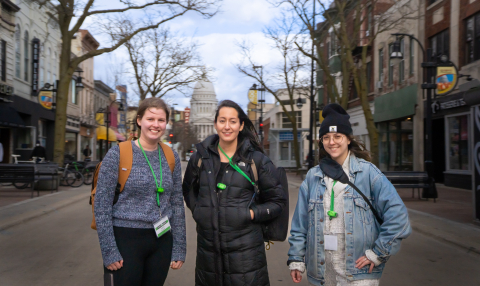 Rosemary Bailey, MD, stands between MSMI staff Irene Schaible, Medical Program Director (left), and Tijana Sagorac Gruichich, Assistant Executive Director (right), on State Street in Madison, WI.
Through weekly street rounds, MSMI provides medical care and supplies to people experiencing homelessness. Supplies purchased include items like sunscreen, hats, socks, water, lip balm, bug spray, long underwear, hand warmers and gloves.
Physicians from UW Health and the VA have been involved with MSMI, but Dr. Bailey hopes for this to become a regular opportunity for the internal medicine residents, too.
"Availability of basic weather protection and hygiene products plays a crucial role in comprehensive medical care. Providing such supplies during rounds is another way of providing care and serves as an introduction to medical providers and a continued relationship with the healthcare system in Madison," Dr. Bailey says.
MACH One Health is a volunteer-led organization. Tijana Sagorac Gruichich, MACH's Assistant Executive Director, explains the impact that volunteers have on this organization.
"MACH One Health would be nowhere without our volunteers. We recently got staff to build up our capacity, but our rounds and outreach are all volunteer-run and led. Without them, we wouldn't be able to do what we do," she says.
If any residents are interested in learning more about getting involved with MSMI, contact Dr. Bell at hibell@wisc.edu.

Bailey, Schaible and Sagorac Gruichich sort through their backpack of medical supplies.
Healing House
After a medical procedure, going home to heal is essential to healing properly. However, for those experiencing homelessness, this is not always an option. The Healing House is a place for people in this position to go to recover after hospitalization and a place for hospice.
Resonating with this mission, Christina Hughey, MD, clinical instructor, Cardiovascular Medicine, and Kirsten Alman, MD, PG-3, worked with Healing House to come up with a list of medical and hygiene supplies to purchase using the Sheehy Family Fund Award.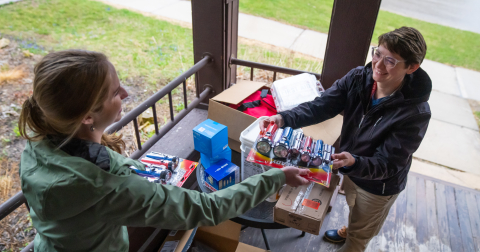 Kirsten Alman, MD, (left) unpacks flashlights, masks and bandages with Christina Hughey, MD, (right).
Supplies purchased include items such as blood pressure cuffs, thermometers, hygiene products, diapers and wipes.
Through their relationship with Healing House, Drs. Hughey and Alman have also been giving presentations on a variety of health topics such as homelessness and health, and substance use to their staff and residents.
"Healing House provides a respite spot for people experiencing homelessness to recover. We provide education topics on anything of their choosing, so we're able to help them with any particular medical question they may have," Dr. Hughey says.
Dr. Alman echoes these thoughts. "The hope is that we can better prepare the staff to take care of the residents of Healing House and better support them within their current mission. The hope is too, that these topics we're providing will empower residents to be healthier and take control of their health," she says.
Next year, these presentations will become a part of the residency's Health Equity Pathway and rotation.
"Through the Health Equity Pathway, our goal has been to make these opportunities more available. I think having projects like this really establishes a relationship with the community organizations to demonstrate to them that residents are really passionate about this and really invested," Dr. Bell says.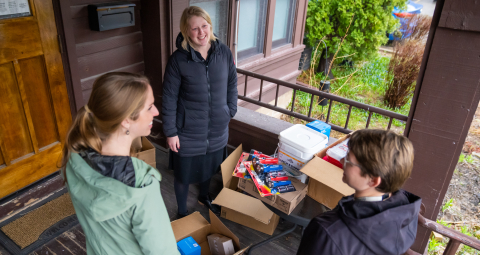 Hannah Bell, MD, talks with Alman and Hughey after delivering supplies to the Healing House.