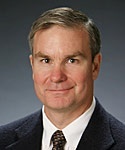 The Department of Medicine is proud to honor Thomas Puchner, MD, clinical assistant professor, Allergy, Pulmonary and Critical Care Medicine, who will retire on July 19, 2021. 
Dr. Puchner joined the Department of Medicine in 2000. He is a member of the American Academy of Allergy, Asthma and Immunology and was a 2013 recipient of its Volunteer Clinical Faculty Award. Dr. Puchner has also received six UW Health Patient Experience Physician Champion Awards, a UW Health Provider Champion Award, and has been named twice to Madison Magazine's "Top Docs" list.
During your time in the Department of Medicine, what would you consider your most significant accomplishments? 
Providing the best allergy care I could to my allergy patients for the past 21 years including making use of my prior 11 years as a primary care doctor by incorporating "looking at the big picture" of a patient's medical conditions and how they might impact allergies and/or asthma care and treatment. 
What have been the most personally gratifying aspects of your work? 
Simply put, when patients comment that I've provided them the care they were looking for and their allergy symptoms are controlled resulting in improved quality of life
Any particularly fond memories?
Many fond patient memories too numerous to list, but also the years I've worked with wonderful nurses, office staff, managers, the ENT, Pulmonary and Dermatology specialists and primary care doctors I've worked with, but especially my allergy physician associates at 20 S Park—currently Drs. Ritter, Healy, Biagtan, Gonzaga, and Kelly, and in the past Drs. Ouellette, Kriz, and Cohen. 
What are you looking forward to in retirement?
 Doing yard work and riding my bike on bike paths without my pager (yes I still carried one), getting more involved in my Church, and no more EPIC!