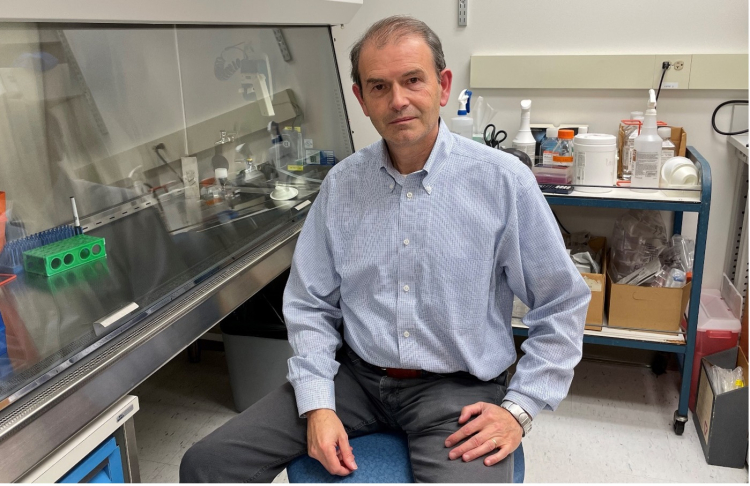 The Department of Medicine is proud to honor Stephane Esnault, PhD, senior scientist, Allergy, Pulmonary and Critical Care, who will retire at the end of 2022. 
Dr. Esnault received his PhD in immunology from the University of Reims in France before coming to the University of Wisconsin–Madison for post-doctoral training in molecular biology/immunology. Since 1997, Dr. Esnault has been a researcher with the UW School of Medicine and Public Health's (UWSMPH) Department of Pathology and the Department of Medicine (2010-present). 
His longtime DOM collaborator, Nizar Jarjour, MD, professor and chief, Allergy, Pulmonary and Critical Care says, "Dr. Esnault has been an outstanding member of our research team at UW Madison for more than two decades. He has contributed to advancing science, with improved understanding of asthma mechanisms with tremendous roles leading to publications, critical contributions to grants and wonderful collaborations with many physician scientists, researchers, and faculty members. His impact on our program will be felt for years to come." 
Learn more about Dr. Esnault in the Q&A below.
During Your time in the Department of Medicine, What Would You Consider Your Most Significant Accomplishments? 
My most significant accomplishment was to combine basic and translational research, from the discovery of intracellular mechanisms in eosinophils, to the discovery of potential biomarkers that relate to asthma severity. I am also proud to have participated in complex studies that seek to understand the relationship between asthma and other chronic diseases such as neurodegeneration and cardiovascular diseases. It is critical to note that my implication in all these studies was made possible by my work environment at the Department of Medicine, particularly with my supervisor, Dr. Jarjour, who introduced me to these projects and encouraged me to be part of them. Many peer-reviewed publications came out of these projects, and I am certain that many more manuscripts will continue to be generated in the future.
What Have Been the Most Personally Gratifying Aspects of Your Work?
Any small or major experimental result that supported our hypotheses is gratifying, as well as a manuscript accepted for publication. In addition, the fact that other research teams in the world use what you have developed in the laboratory or continue the work that you have published is extremely satisfying. In general, our research work is just one chain link leading to the development of drugs or a change of behavior to improve people's health. Thinking about that is very gratifying.
Any Particularly Fond Memories?
It is important to note that the pleasurable aspects of my work described above were due primarily to teamwork. When one works for 20 years with the same people, there are bonds that form. Therefore, the very best fond memories are the ones we share with colleagues and collaborators. For instance, I remember fond times and celebrations with the members of our team when we received a grant to continue working together.
What are You Looking Forward to in Retirement?
I hope to reconnect with the French culture, explore France and Europe, and see my family more often. I may now find time to start drawing again, play chess and going to a horse track. It is as if I were going back to my source. However, I don't want to just disappear from the department. I wish to continue helping Dr. Jarjour and all our collaborators at least during the transition until hiring and forming a new scientist. 
 
Banner: Stephane Esnault, PhD, in the lab. Credit: Yury Bochkov.