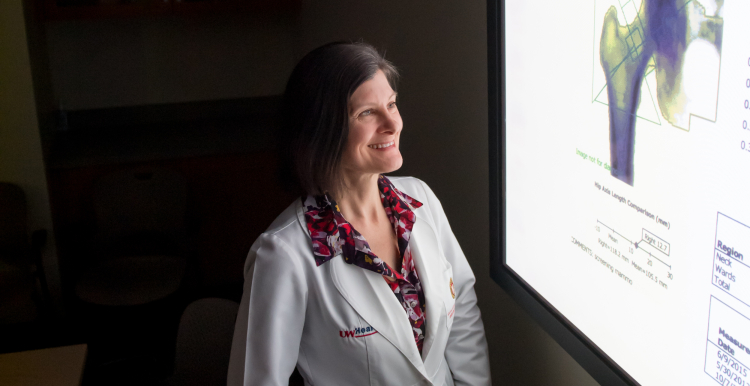 The Department of Medicine is proud to honor Karen Hansen, MD, MS, professor, Rheumatology, who will retire on October 7, 2022.
Dr. Hansen completed medical school, residency and chief residency at UW–Madison, followed by a rheumatology fellowship at Duke. She joined the DOM faculty in September 2001 and has received honors and awards related to her research, teaching and patient care. 
Christie Bartels, MD, associate professor and chief, Rheumatology, said, "Dr. Hansen has been a national leader in osteoporosis care, and a dedicated rheumatology physician scientist and educator at UW for 21 years. She led an important NIH R01 RCT study on vitamin D and co-authored the 2017 American College of Rheumatology Glucocorticoid Induced Osteoporosis Guidelines. 
She has also helped with many faculty promotions committees, fellowship oversight committee, and has made significant institutional contributions in her role as Director of the Osteoporosis and Metabolic Bone Disease Clinic over the past year. She will be missed for her expertise and her patients will certainly miss her exceptional care."
Find out more about Dr. Hansen in the Q&A below.
During Your time in the Department of Medicine, What Would You Consider Your Most Significant Accomplishments?
I was fortunate to secure NIH funding for a large randomized, placebo-controlled clinical trial testing the hypothesis that high-dose vitamin D was superior to low-dose vitamin D in its effects on fractional calcium absorption, bone mineral density and measures of muscle function. The paper was published in JAMA Internal Medicine and received national attention because high-dose vitamin D was not superior to low doses. 
In another randomized placebo-controlled trial, we evaluated effects of PPI therapy on skeletal health and calcium absorption. I co-authored national guidelines to prevent and treat glucocorticoid induced osteoporosis. I learned how to perform bone biopsies to diagnose metabolic bone diseases.  
What Have Been the Most Personally Gratifying Aspects of Your Work?
I found it very gratifying to build close relationships with my patients, some of whom I have known for 21 years. Improving or extending patients' lives, and sharing their joys and sorrows, was true privilege and the reason I became a physician. 
I also loved teaching and mentoring fellows and other trainees, many of whom still keep in touch. 
Any Particularly Fond Memories?
My 5 a.m. alarm and early morning commute to the hospital are fond memories. I admitted research participants to the clinical research unit at 7 a.m. for their 24-hour fractional calcium absorption visits. We completed over 2,000 study visits and had only 9 of 231 women withdraw from the trial. 
But because of that trial, I had about ONE DAY OFF a month! Praises for my outstanding research team, the CRU nurses and nutritionists—they kept me sane and on track! And praises for my PhD husband, who was "Mr. Mom" for eight years.  
What Are You Looking Forward to in Retirement?
I look forward to spending time with family and friends. I pray for grandchildren! I will continue my hobbies of home remodeling and quilting. My fantasy is to publish a humorous book about raising our two children, modeling the writing style of James Herriot and Michael Perry.
Banner photo: file photo of Dr. Karen Hansen evaluating a bone density scan. Credit: Clint Thayer/Department of Medicine