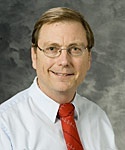 The Department of Medicine is proud to honor Jonathan Makielski, MD, professor, Cardiovascular Medicine and Physiology, who retired on July 1, 2020.  
Dr. Makielski joined the department in 1995. A clinician-investigator, he developed a distinguished research career that most recently focused on the use of recombinant DNA technology and other biomolecular techniques to study cardiac ion channels, including mutations in the cardiac sodium channel that cause arrhythmia syndromes. An excellent teacher in both the clinical and scientific settings, Dr. Makielski formally lectured to graduate students in physiology, genetics, pharmacology and toxicology. He was also the principal investigator on a National Institutes of Health (NIH) T32 institutional training grant for translational cardiovascular science.
During Your Time in the Department of Medicine, What Would You Consider Your Most Significant Accomplishments? 
I established a NIH-funded T32 training program in translational cardiovascular research and directed it for 20 years. I also directed an NIH-funded research program in molecular electrophysiology for 35 years (since 1985), the last 25 of which were at UW. I'm proud to have played a role in advancing the careers and accomplishments of clinicians, researchers, and especially clinician-researchers. 
What Have Been the Most Personally Gratifying Aspects of Your Work?
My primary mission as a physician-scientist was to maintain a general cardiology practice, conduct basic electrophysiology research and help train the next generation of clinicians and researchers. The most gratifying aspects of my work was the ability to care for so many patients through the years, and also to see the success of the trainees I worked with, especially those in the lab who have gone on to be NIH-funded faculty. 
When I was an internal medicine resident, my chair at the University of North Carolina, Dr. John Parker (a prominent researcher on red blood cell physiology), asked me about my career goals, and I said I wanted to be a physician-scientist. He told me that if I could make it work, it was a wonderful and rewarding career. He said, "In addition to the satisfaction of taking care of patients and doing research, you will travel the world and meet and work with the smartest and most interesting people." Forty years later, I can say he was so right. It's about the people: students, trainees, colleagues, mentors, and patients. 
When my son was 10 years old, he wrote one of those "What do you want to be when you grow up?" essays for school. He said he wanted to be a doctor, because you helped people, made enough money, and still had plenty of time for your family. So it is personally gratifying that with the help of everyone in my work life and personal life that I was able to achieve a balance in the eyes of those who count. That son today is an oncologist.
Any Particularly Fond Memories?
There are too many to recount, all concerning those colleagues and trainees who made it all possible and helped me in my career. 
What Are You Looking Forward to in Retirement?
Well, before COVID, it was travel!  Also time with my new grandson, but now that means Zoom meetings and outdoor picnics at a distance. So I am swimming, sailing, and tending a large vegetable garden. I will take a little time and then figure out what comes next.