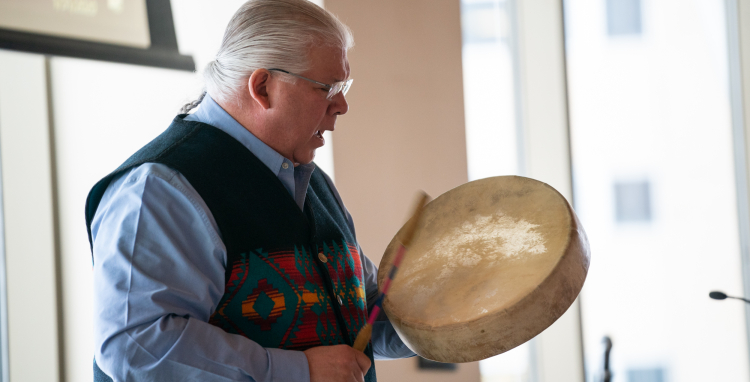 For Bret Benally Thompson, MD, clinical assistant professor, Hematology, Medical Oncology and Palliative Care, medicine was a career he dreamed of as a boy—and ultimately attained in midlife.
A member of the White Earth Band of Ojibwe, Benally Thompson grew up off the reservation but was immersed in the cultures of both sides of his family: the Ojibwe side on the reservation and the non-Indian, Swedish side. At age eight, when he told his grandfather he'd like to become a doctor, his grandfather discouraged him—even saying he was "too stupid" for it—perhaps because he'd never known of anyone from the reservation becoming a physician.
Benally Thompson believed him for a long time. After graduating from high school, he decided to enlist in the United States Army National Guard, serving for more than 11 years, first as a military policeman and then as an infantry officer. He also worked as a deputy sheriff in Houston and in Austin, Texas, and as an emergency medicine technician in Breckenridge, Colorado—experiences that reignited the love he had for service and the fascination he had with medicine.
Those feelings crystallized one day when Benally Thompson was in his late 20s. While driving his patrol car outside Austin, he had the striking realization that he needed to go back home and become a physician for his people. He described the moment as a "bolt of lightning."
Several years later, he returned to college, earned his bachelor's degree, and at the age of 40, entered medical school at the University of Minnesota Medical School's Duluth campus. There, he met another Native physician whose mentorship gave him the confidence he needed to push through the stresses of medical education.
After completing the Alaska Family Medicine Residency in Anchorage, Benally Thompson pursued a newfound passion, palliative care and hospice medicine, through a fellowship at Providence Alaska Medical Center.
He has deep gratitude for the support he received throughout his medical training, both from his community and from elders in the American Indian Science and Engineering Society (AISES), a national organization that aims to increase the representation of indigenous peoples of North America in science, technology, engineering and math (STEM) studies and careers.
"I have had the privilege of taking care of our Council of Elders at the AISES national and leadership conferences each year since the mid-1990s," he said. "Elders are revered in our culture. They are considered the wisdom keepers."
"What I learned from elders—growing up and as an adult—formed who I am both as a human being and as a physician, spiritually and culturally," he continued. "The understanding of these teachings is especially helpful in palliative care: looking at the whole person, no matter their social or spiritual background."
From Student to Elder
Today, Benally Thompson provides inpatient palliative care at UW Health University Hospital and at UnityPoint Health–Meriter. He considers it an honor to listen to his patients' stories, help them live well with serious illness, and when necessary, walk them through the end of life.
An equally rewarding part of his job is to mentor young Native people considering careers in medicine. He is on the advisory council of the UW School of Medicine and Public Health's Native American Center for Health Professions (NACHP), a role he's had since before the Center was formally created in 2012.
Benally Thompson is also the principal investigator of Indians Into Medicine, a five-year, $1 million grant that the U.S. Department of Health and Human Services' Indian Health Service awarded to NACHP in 2019. The grant provides support to bring Native students into health professions, to create community-based learning opportunities that cultivate belonging and student retention, and to promote service to Native communities.
In addition, he has served on the board of the American Indian Cancer Foundation for the past six years, including as board chair. Before he came to UW, he also worked at the Red Lake Indian Health Service Hospital; during this time, he was the national clinical lead for palliative care.
Since medical school, Benally Thompson has remained affiliated with AISES, serving as a mentor and role model for Native students from all over North America. In 2015, he joined the AISES Council of Elders; that same year, he received its Ely S. Parker Award for significant contributions to and impact on the indigenous STEM and education community.
"One of the greatest joys being on the Council of Elders for AISES is seeing our young people succeed, no matter what level their education or the career they chose," he reflected. "I have had the privilege of watching them become scientists, engineers, doctors, educators."
He recalled one young person that he's particularly close to walked in space for over 15 hours outside the Space Shuttle Endeavor, and notes that corporations, colleges and government agencies recruit heavily at AISES conferences.
"They have learned the importance of a diverse workforce, and recognize that Native people bring a perspective of service and caring not only to their colleagues, but their communities and the earth as a whole," he said.
Resource:
Banner photo, Dr. Bret Benally Thompson opens the Division of Hematology, Medical Oncology and Palliative Care's 2020 retreat with a traditional song to honor colleagues and the work they do in the division. Photo: Clint Thayer/Department of Medicine