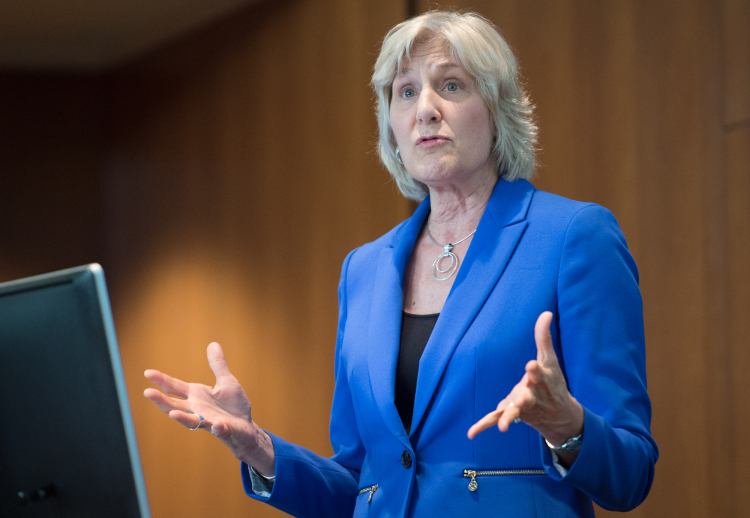 The National Institutes of Health recently announced that the University of Wisconsin–Madison's Women in Science & Engineering Leadership Institute (WISELI), co-directed by Molly Carnes, MD, MS, professor, Geriatrics and Gerontology, and Amy Wendt, PhD, associate vice chancellor for research in the physical sciences, and professor of electrical and computer engineering, is one of 10 winners in its inaugural competition to recognize U.S. universities that have demonstrably helped close gender gaps in academia.
WISELI was selected to receive a $50,000 prize and be honored at an NIH forum in October.
Established as a research center in 2002 with funding from the National Science Foundation's ADVANCE Institutional Transformation program, WISELI's goal was to increase the participation and advancement of women at UW-Madison, particularly in STEMM. 
It's now recognized as a visible, campus-wide research center, endorsed by top-level administrators, that uses UW–Madison as a "living laboratory" to study gender equity, diversity, and climate; implement evidence-based solutions; and measure success.
"Establishing WISELI as a research center was critical, because at that time the issue of women in science was not universally viewed as a valid area of research and scholarship," explains Carnes. "Having interventions emanate from a research center helped elevate the stature of gender equity efforts because research centers are recognized structures on campus."
Driving Positive Institutional Change
WISELI collects institutional data to track the progress of women faculty at UW–‍Madison and disseminates programming and materials that are in demand by colleges and universities nationally and internationally.
Its entry to the NIH competition, WISELI: A Wise Approach to Gender Equity, provides evidence that the center has been a major contributor to the increased number and percentage of women on the UW–Madison faculty in biological and physical science (BIO-PHY).
In 2001, 16 percent of UW-Madison faculty in BIO-PHY were women, and 2 percent were women of color. In 2020, 28 percent were women, and 7 percent were women of color.
A key element of several WISELI initiatives is educating faculty about the impact of unconscious bias on individual judgements and institutional processes, providing evidence-based strategies for minimizing the influence of such bias.
WISELI's Study of Faculty Worklife, a longitudinal study of workplace climate for UW–Madison faculty with six waves since 2003, is another critical aspect of WISELI as an intervention.
Additional WISELI programs aim to address personal barriers that threaten faculty research; increase the visibility of women scientists, especially those of color; and introduce learners to research on gender and leadership.
"WISELI has impacted almost every facet of gender equity at UW-Madison and is often held up as a model for how to drive positive institutional change," says Wendt. "For example, currently, over half of the 27 departments in SMPH are chaired by women–the highest in the United States."
"Collectively, WISELI's initiatives and visible presence in the equity environment at UW–Madison have contributed to the increased representation of women, including women of color, on the faculty of UW-Madison; improvements in the climate experienced by women; and reductions in the gap between the climate experienced by men compared to women," Carnes says.
Adapted from an article by Natasha Kassulke
Banner photo: Molly Carnes, MD, MS, co-director of WISELI. Credit: Clint Thayer/Department of Medicine