Marina Sharifi, MD, PhD
Image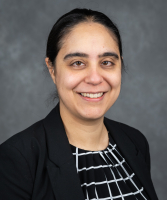 Assistant Professor
Hematology, Medical Oncology and Palliative Care
What is your primary professional focus as it relates to our mission areas (clinical, research and/or medical education)?
I have a primary focus in translational breast cancer research, with the goal of improving our understanding of the biology underlying treatment resistance in breast cancer to develop more effective treatment approaches.
What drew you to UW–Madison and the Department of Medicine? 
The amazing breadth of opportunities for mentorship and collaboration within the department and the university.
What are you most excited about during your first year with the department in this role? 
I am excited to start and grow my lab and begin working with trainees in clinic and in the lab.
What do you enjoy doing when you're not working?
I enjoy baking and spending time outside, whether hiking or enjoying time with friends at the Terrace.
Favorite piece of advice from a mentor or inspiring figure in your life?
"Listen to your patient and they will tell you everything you need to know to help them." I have found this is true outside of clinic as well!