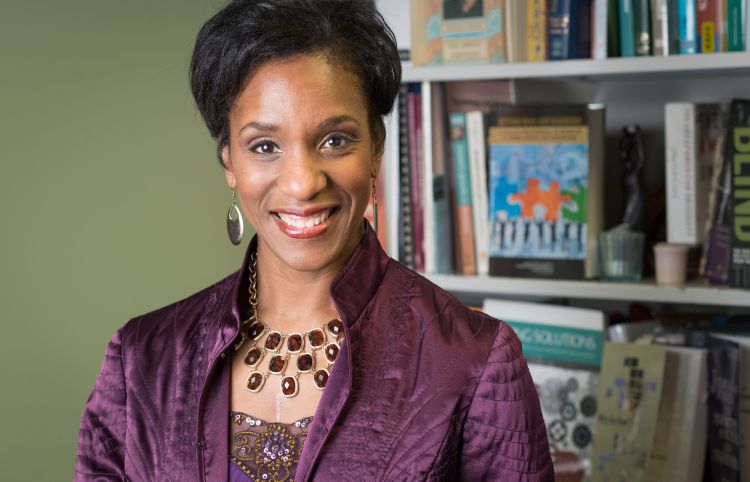 For scientists, engineers, mathematicians, and medical professionals, success does not come by chance alone. Creating new knowledge requires perseverance, lateral thinking skills, technical acumen, creativity, and the ability to thrive within the culture of one's specialty.
For many, a relationship with a mentor is key to progress. Mentors model unspoken qualities of professionalism and serve as guides in rigorous fields full of inherent challenges. But the essential characteristics of STEMM mentoring relationships are still being identified and few mentors receive training in how to be more effective in their roles. For Angela Byars-Winston, PhD, associate professor, General Internal Medicine, the time is right for deep inquiry into the topic.
"STEMM fields are economic drivers, and the crucible of social change. But as important as mentoring is to shaping the science, medicine and technology workforce, we're just starting to shed light on how complex and dynamic mentoring relationships form," said Dr. Byars-Winston. To facilitate further study, she initiated, chaired the planning committee for, and led a workshop attended by more than 120 scholars and thought leaders on February 9-10, 2017 in Washington, DC that focused on the practice, research, and future directions of mentoring in STEMM disciplines.
One aim of the workshop was to gauge and hopefully secure fiscal support for a full commissioned study on the topic, which would allow publication of a consensus report, which would be sent to Congress.
A consistent theme was that mentors and mentees share responsibility for the success of the relationship. This illustrated by a graphic artist, Layne Scherer from the National Academies, who created hand-drawn murals depicting themes from the workshop as discussions occurred. To show the concept of shared responsibility, Ms. Scherer created an image of two individuals co-piloting a plane (shown above).
Among the scholars and thought leaders attending the workshop and also a member of the workshop planning committee, was Christine Pfund, PhD, associate scientist, UW-Madison School of Education and director of the newly launched Center for the Improvement of Mentored Experiences in Research (CIMER). Focused on improving mentoring practices in all career stages of post-secondary researchers, CIMER members develop training interventions for mentors and mentees that are grounded in both theory and evidence. "The NAS Workshop provided an opportunity for diverse stakeholders to articulate needs for enhancing mentoring programs and advancing the study of mentoring. Many of these needs are the objectives of CIMER, which will provide resources for organization and institutions to improve mentoring relationships," said Dr. Pfund.
Workshop discussions were powerful and insightful, according to Dr. Byars-Winston. "One of the most interesting moments were remarks shared by a well-renowned molecular biologist who is a White male who reflected on the importance of being vulnerable and sharing one's personal cultural experiences as he seeks to connect with his trainees, particularly those from under-represented minority groups."
Drs. Byars-Winston and Pfund believe that improving research mentoring can help innovation flourish and improve the exposure, access, and retention of women and students of color in technical fields. "Mentoring is powerful. When performed at the highest levels of skill and artistry, it not only changes lives—It changes industries, and shapes our society. It's time to give mentoring due diligence and focus on identifying successful evidence-based practices and metrics for mentoring students in STEMM career pathways," said Dr. Byars-Winston.
The conference was sponsored by the National Academy of Sciences' Board on Higher Education and Workforce (BHEW). Dr. Byars-Winston serves on the board of the BHEW, directed by Tom Rudin of NAS. Additional partners included the Committee on Women in Science, Engineering, and Medicine, the Board on Science Education, and the Teacher Advisory Council of the National Academies of Sciences, Engineering, and Medicine. Funding came from the National Math and Science Initiative.
Resources:
Agenda and speakers—National Academy of Sciences Participatory Workshop on Effective Mentoring in STEMM<