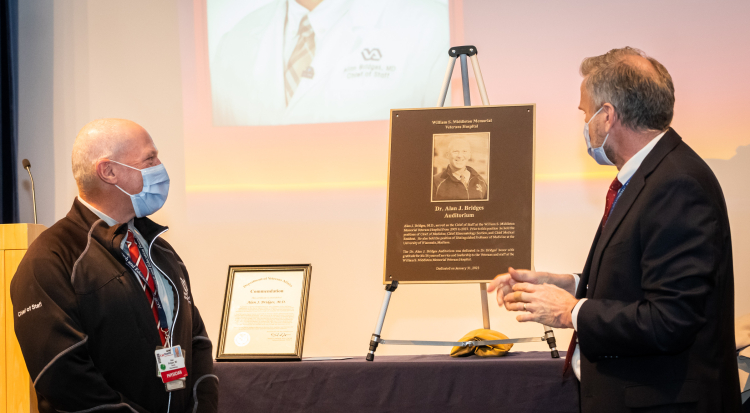 Alan Bridges, MD, distinguished professor, Rheumatology, retired this year as chief of staff at the William S. Middleton Memorial Veterans Hospital (Madison VA)—a position he served in since 2005. In honor of his long, fruitful tenure, the Madison VA has renamed its primary auditorium the Dr. Alan J. Bridges Auditorium.
A small ceremony marked the occasion on March 2, with the unveiling of a commemorative bronze plaque—made possible through private donations—that will hang outside the auditorium's entrance.
Remarks by Carolyn Clancy, MD, MACP, Assistant Undersecretary for Health, Discovery, Education and Affiliate Networks at the US Department of Veterans Affairs, summed up Dr. Bridges' impact:
"His leadership [has] exemplified healthcare and management excellence. From leading the way to reducing readmissions dramatically to embracing Whole Health, Alan has been consistently ahead of the curve, and spot on every time. The multiple prestigious awards reflect but don't perfectly capture what we will miss most: passionate commitment to veterans, respect for all engaged in veterans' care and what might be called 'inclusive insight'—brilliance that engages and inspires."
For his part, Dr. Bridges thanked his VA colleagues heartily, noting, "We have built a great hospital—together."
Dr. Bridges will continue to serve on the faculty of the UW Department of Medicine in the Division of Rheumatology; his office can be found on the fourth floor of the Medical Foundation Centennial Building.
Revisit this School of Medicine and Public Health interview with Dr. Bridges from 2021, where he discusses the importance of veterans' health and the connections between the Madison VA and School of Medicine and Public Health.
Banner: Dr. Bridges (left) with Madison VA director John Rohrer, MPH, at the unveiling of the commemorative plaque. Credit: Clint Thayer/Department of Medicine.