After 42 years in the University of Wisconsin Department of Medicine, including 32 as director of the internal medicine residency program, Bennett Vogelman, MD, professor, Infectious Disease, and vice chair for education, will retire on August 31, 2020.
Dr. Vogelman joined the department in 1978 as an intern, and completed his internal medicine residency, a chief year at the William S. Middleton Memorial Veterans Hospital, and an infectious disease fellowship here. He joined our faculty in 1986 and became residency program director in 1989—making him one of the longest-serving residency program directors in the nation.
Inspired by a "love of learners and a love of learning," Dr. Vogelman's educational philosophy is grounded in critical inquiry, reflection and self-directed learning. Hundreds, if not thousands, of physicians—including many Department of Medicine faculty—trained with him. They've particularly appreciated his empathy, enthusiasm and advocacy, as seen in this 2016 video produced in honor of his 25th anniversary as residency program director.
Dr. Vogelman's many teaching accolades include the UW-Madison Chancellors Award for Excellence in Teaching, the UW SMPH Dean's Teaching Award and the Accreditation Council for Graduate Medical Education's (ACGME) Parker Palmer Courage to Teach Award.
As a clinician, Dr. Vogelman has had a long-standing interest in the care of people with HIV, and served for many years as the co-director of the UW Hospital and Clinics HIV/Immunology Clinic. In 2007, the American College of Physicians Wisconsin Chapter selected him as its Distinguished Internist of the Year, and in 2009 presented him with its Laureate Award, the highest honor for an internist in the State of Wisconsin.
In honor of Dr. Vogelman, the department has created and named the Internal Medicine Residency Program Endowment. This fund will help support education, research costs, salary support, continuing education, or other projects that advance the goals of the residency program. Learn more about the fund or make a contribution.
What are the biggest highlights from your time in the Department of Medicine?
The things that stand out are loving learners and loving learning, and providing longitudinal care for individuals with HIV.
I see my education practice and my clinical practice as having more similarities than differences. You learn a lot from your learners, and you learn a lot from your patients. And when you learn even more—they open up their lives and their hearts and you have this privilege of hearing things that maybe they shared with very few people in the past.
The fact that you listened helps them see that you're respectful of them and their place, that you're willing to come to some mutual understanding. They are willing to trust you, because you listened to what their life is like.
What have been the most personally gratifying aspects of your work and why?
The learners, the learning, the patients—and the lives they share—are what I've found so sustaining. It's what I'm going to miss the most. And then you develop relationships with colleagues over the years and you, in essence, have a community at work.
I also couldn't have imagined a day where all of the patients in the HIV clinic survived. From 1983 until 1996 was a very difficult period of time. Since, I have had the privilege of growing older with many of those for whom I have cared.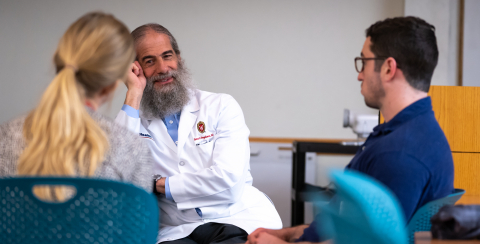 Above, Dr. Vogelman talks with internal medicine residents during a 2018 Morning Report.
What are your most fond memories?
I had a longitudinal relationship with Dr. William Craig [a founding member of the Division of Infectious Disease who had served as the department's residency program director and the chief of Infectious Diseases at the William S. Middleton Memorial Veterans Hospital]. He was a mentor, a role model and a sponsor. That's rare. It was important for me to see a leader who respected everyone for what they could offer.
The VA helped me explore for eight years and mature. I got to try out medicine in so many different places and they even gave me my first career development award. That launched my academic career. I owe a lot to the VA and strive to maintain a very close relationship there. I can't really repay what they did for me, taking a chance on me in my early years. 
High points also came from patients and learners. One patient had his brother share his diary with me after he passed. In it, he had logged all of his thoughts before clinic, the day of clinic and the day after clinic. This is one of the most precious gifts I've ever gotten as a doctor, and one of the most precious textbooks I've ever received.
I also realized that [the residency] was the residents' program. They can make it the way they want and they can be the agents of change. We put together a lot of town halls, forums, focus groups and committees so that the residents' voices were loud, clear and effective.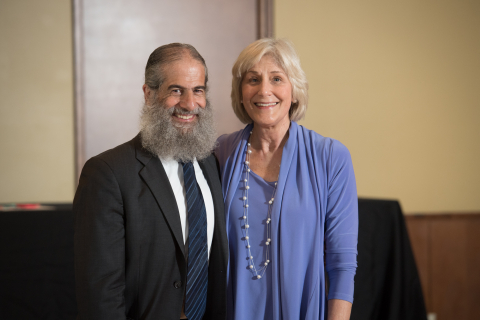 Above, Dr. Vogelman with wife and colleague Dr. Molly Carnes in 2017.
What are you looking forward to next?
I finish August 31, and at 8:00 AM on September 1, I will be a full-time kindergarten and preschool teacher for my three grandchildren. We found outstanding curricula online and remodeled a room in my daughter's house.
The school is going to be called "La Escuela del Abuelo y las Tres Haches." ["Grandpa and the Three H's School," reflecting each grandchild's first initial.] We'll learn Spanish together.
I would also like to fulfill a dream my mom always had for me: I took piano from age 7 to 9, but never had the patience to stick with it.  I hope to have a portable keyboard, so as I learn the scales, my grandkids will learn the scales.
I'm also still here to support [wife and faculty colleague Dr. Molly Carnes'] career. That's always been a priority.
I've been at UW for 42 years. Being a physician and teacher will always be part of who I am.
Banner photo, Dr. Bennett Vogelman speaks at the 2015 internal medicine residency graduation ceremony.