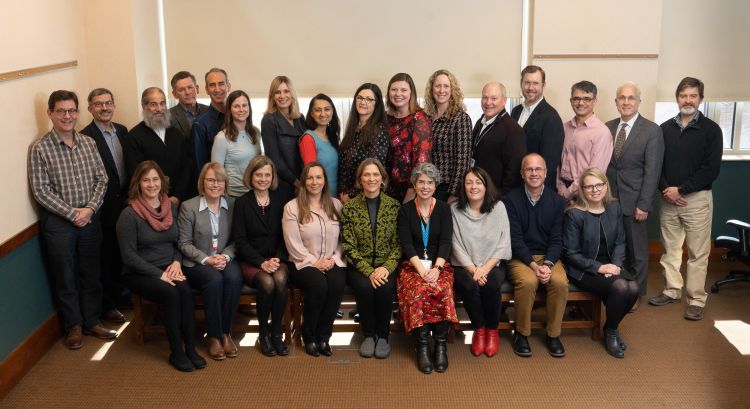 Photo (above): Attendees of the 2019 Department of Medicine Leadership Retreat pause briefly for a group photo. Back row, L to R: Vincent Cryns, MD; Nizar Jarjour, MD; Bennett Vogelman, MD; Michael Lucey, MD; Jeremy Smith, MD; Mariah Quinn, MD, MPH; Ann Sheehy, MD, MS; Nasia Safdar, MD, PhD; Sharon Gehl, MBA; Lisa Bindl, MBA; Amy Kind, MD, PhD; Alan Bridges, MD; Pete Schmeling; Arjang Djamali, MD; Mohamed Hamdan, MD; Mark Juckett, MD. Front row, L to R: Sheri Lawrence, MBA, CMPE; Ann Schmidt, MD; Laura Zakowski, MD; Michelle Kimple, PhD; Elizabeth Trowbridge, MD; Robyn Perrin, PhD; Ruth O'Regan, MD; David Andes, MD; Christie Bartels, MD, MS. Not pictured: Peter Newcomer, MD and Michael Dallman, MBA, FACHE.
On February 15, 2019, the ninth annual Department of Medicine Leadership Retreat took place at the Fluno Center on the University of Wisconsin-Madison campus.
Presiding over the retreat was Interim Chair Betsy Trowbridge, MD, Phillip August and Sarah Neely Herrmann Professor in General Internal Medicine. The meeting was attended by Department of Medicine Vice Chairs and Division Chiefs or their representatives, as well as Peter Newcomer, MD, Senior Vice President and Chief Clinical Officer, UW Health and Clinical Professor, General Internal Medicine, and Michael Dallman, MBA, FACHE, senior vice president and chief strategy officer, UW Health. Dallman also serves as president of University Health Care, Inc. and UW Health Regional Division, Inc.
"Our goals today include hearing from UW Health leadership about big-picture visions for the future and understanding how our department's role in structural aspects of UW Health and the UW School of Medicine and Public Health, how we can share and communicate between our divisions and optimize engagement, and how we can prepare for the Department of Medicine chair candidate visits occurring over the next few weeks," said Dr. Trowbridge.
Remarkable Health Care: Putting Strategy Into Practice
Dr. Newcomer's presentation provided an overview of current and upcoming strategic initiatives across our health care system. These include a variety of initiatives outlined in the UW Health Strategic Plan, which may be viewed on the U-Connect intranet. Strategic domains over the next three to five years are organized into domains of patient experience aimed at improving and coordinating access to care, population health, distinctive and nationally-recognized clinical programs, translational research and innovation, and smart growth to serve communities. Additional information on UW Health initiatives is available in the 2017-2022 UW Health Strategic Plan Overview Booklet, other U-Connect resources, and via periodic UW Health Town Halls, including the most recent UW Health CEO Town Hall on February 5, 2019.
Dr. Newcomer also provided an update on the UW Health Way, which refers to standardized and organization-wide approaches to patient care and business processes across the organization. The concept is an academic medical center-tailored adaptation of the Virginia Mason System, which itself incorporates tenants from the Toyota Production System (TPS). These methodologies of large-organization management date back more than a century and include underlying philosophies of "kaizen" – a Japanese productivity philosophy that focuses on a mindset of continuous improvement – and "lean" – an organizational approach that seeks to increase productivity by focusing on essential activities while minimizing waste. A training curriculum for clinical and non-clinical aspects of the UW Health Way is being developed, with dissemination and implementation to follow. Lastly, Dr. Newcomer described upcoming initiatives that have been recommended by the UW Health Provider Wellbeing Committee and approved for implementation.
Dallman's presentation delivered an overview of changes in the health care landscape, from national trends in the industry to regional changes such as an increase in the Medicare-eligible population in the upper Midwest. He illustrated challenges and opportunities for academic medical centers (AMCs, also referred to as academic health centers), which occupy a specialized niche in the national landscape of health care systems. Such systems are viewed by the public as overwhelmingly positive (for example, the results of a 2017 public opinion survey by the Association of American Medical Colleges showed that medical schools and teaching hospitals both achieved their highest favorability ratings in 20 years — 72% and 69%, respectively), while having both unique strengths and unique challenges relative to other types of health care systems. Like many other AMCs, our organization is preparing for market and industry changes with a patient-focused, nimble and strategic mindset.
"Our vision for the future is clear: we will continue to provide remarkable care to all of the communities we serve, bringing together strategic planning across the organization in a synergistic way," said Dallman.
Coordinating, Connecting, and Celebrating Departmental Achievements
"The integration of UW Medical Foundation and UW Hospital and Clinics Authority in 2015 has reduced duplication and increased nimbleness throughout our system," said Dr. Trowbridge. It has also created a need for Department of Medicine leaders and members to become familiar with post-integration organizational structures, functions, and changes to funding mechanisms. Retreat attendees reviewed and discussed some of these aspects, sharing examples from each of their areas of responsibility about how they are working in synergy with UW Health and UW School of Medicine and Public Health colleagues, teams, and governance committees throughout the organization.
Dr. Trowbridge then presented a State of the Department overview, celebrating the achievements and hard work of department members over the past year:
Research
For fiscal year 2018, the department research grant portfolio totaled $100.6M in funding, a 10 percent increase over the previous fiscal year.
The most highly funded divisions included Allergy, Pulmonary and Critical Care Medicine ($17.4M), Hematology, Medical Oncology and Palliative Care and the Carbone Cancer Center ($17M), Geriatrics and Gerontology ($15.4M), and Infectious Disease ($14.2M).
Researchers in the department prepared a total of 535 submissions including grant proposals, clinical trial agreements, continuations and progress reports, data use agreements, and other types of submissions in support of the research mission.
The department is now ranked 15th in the nation among all Departments of Internal Medicine for funding from the National Institutes of Health, which is the highest ranking ever in the department's history.
Clinical
The department's clinical workforce includes 216 clinical full-time employees (FTE) faculty and 119 advanced practice providers (APPs) for UW Health.
Department clinicians provided 444,054 ambulatory encounters during the 2018 fiscal year.
Total clinical revenue of Department of Medicine clinicians was more than $137M for FY2018, which constitutes an increase of $17M over the previous fiscal year.
Education
Internal Medicine residents scored in the 93rd percentile on the in-training exam among 505 programs nationally, corresponding to the top quintile in all 12 Internal Medicine subjects.
100 percent of residents passed board exams, giving a 3-year pass rate of 99 percent - typically achieved by only 3 of the over 100 university department of medicine programs nationally.
84 percent of PG3 residents matched or procured their first job choice. Graduating residents went on to become fellows at institutions such as Yale, Baylor, University of Chicago, and University of Wisconsin-Madison and four will serve as Internal Medicine chief residents at our institution. Residents seeking job placement secured employment in an array of settings, including private practice and faculty positions across the nation.
Fellows achieved a 100 percent Board pass rate for the second consecutive year, and fellowship programs in the department matched well above the national mean in all fields.
Medical educators in the department received the 2019 UW Health Clinician Educator Award (Joan Addington-White, MD) and the 2019 Dean's Legacy Award for Excellence in Medical Student Research Mentorship (Nasia Safdar, MD, PhD).
Dr. Trowbridge provided updates about the strong financial health of the department and important clinical advancements and initiatives at the VA Hospital.
She also presided over a discussion of the upcoming Department of Medicine chair candidate interviews, devoting the final session of the day to the search process and focusing on preparations for candidate visits from February 28 through April 9, 2019.
"It's critically important that we are all involved and engaged in the chair candidate visits," said Dr. Trowbridge.
Each of the six candidates will present two talks: an academic presentation, and a town hall. All Department of Medicine members are encouraged to attend (note: dates, times and room assignments are subject to change):
John C. Byrd, MD, The Ohio State University
Town Hall: February 28, 2019, 5:00-6:00 pm, HSLC 1309
Academic Presentation: March 1, 2019, 12:00-1:00 pm, HSLC 1325
Monica Kraft, MD, The University of Arizona
Town Hall: March 7, 2019, 5:00-6:00 pm, HSLC 1345
Academic Presentation: March 8,2019, 5:00-6:00 pm, HSLC 1345
Lynn M. Schnapp, MD, Medical University of South Carolina
Town Hall: March 14, 2019, 5:00-6:00 pm, HSLC 1345
Academic Presentation: March 15, 2019, 12:00-1:00 pm, HSLC 1309
Kim Allan Williams, MD, MACC, MASNC, FAHA, FESC, Rush University
Town Hall: April 1, 2019, 5:00-6:00 pm, HSLC 1345
Academic Seminar: April 2, 2019, 12:00-1:00 pm, HSLC 1345
Nasia Safdar, MD, PhD, University of Wisconsin
Town Hall: April 3, 2019, 5:00-6:00 pm, HSLC 1335
Academic Presentation: April 4, 2019, 5:00-6:00 pm, HSLC 1345
Anne E. Dixon, MA, BM, BCh, The University of Vermont
Town Hall: April 8, 2019, 5:00-6:00 pm, HSLC 1309
Academic Presentation: April 9, 2019, 12:00-1:00 pm, HSLC 1345
If you are unable to attend in person, these presentations will be recorded and live streamed and will be made available on the UW School of Medicine and Public Health video library.