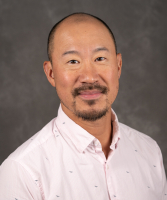 Micah Chan, MD, MPH, associate professor (CHS), Nephrology, received a 2018 Poster Abstract Award (2nd Place) at the American Society of Diagnostic and Interventional Nephrology (ASDIN) 14th Annual Scientific Meeting in Salt Lake City, Utah. The award was presented on February 18, 2018. 
Dr. Chan's clinical research project focused on an approach to overcome challenges faced by people living with kidney failure who require dialysis. The process of hemodialysis uses a machine and filter to remove waste products and water from the blood. A hemodialysis access, which is placed by a minor surgery, enables a way to reach the blood frequently for hemodialysis. If an access ceases to function properly, it must be corrected quickly for the patient to continue receiving lifesaving dialysis treatment.  
Dr. Chan's poster, entitled "Latest Results from Randomized Trial of Drug-Coated Balloons in Dysfunctional Fistulae," reported results from the first large multi-center trial designed to explore the safety and efficacy of a drug-coated balloon in dysfunctional arteriovenous fistula (AVF), a type of access involving formation of a direct connection of an artery to a vein. AVFs are a gold standard for hemodialysis because they provides an access with good blood flow that can last for decades. AVFs can be prone to narrowing (restenosis), however. 
The study tested the ability of an over-the-wire catheter with a paclitaxel-coated balloon fixed at the tip to maintain an AVF in an open and unobstructed state.
Resources: