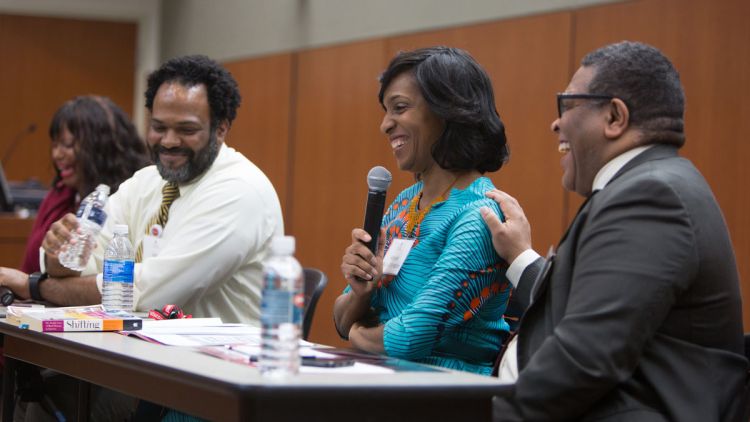 Photo caption: Dr. Angela Byars-Winston (center, holding microphone) shares a moment of levity with panel moderator Beverly Hutcherson (far left) and co-panelists Dr. Jason Stephenson (second from left) and Dr. Tracy Downs (right).
To foster dialog about race in health care systems, the University of Wisconsin School of Medicine and Public Health (SMPH) offered an inaugural Diversity Summit on January 30, 2018. The event featured keynote speaker Feranmi Okanlami, MD, MS, speaking on personal resiliency. Dr. Okanlami completed his undergraduate degree at Stanford, earned his medical degree from the University of Michigan, and is completing a family medicine residency in face of difficult circumstances. He recently accepted an offer to join the faculty of the Department of Family Medicine at the University of Michigan.
Two panel discussions at the summit were presented concurrently. The first was entitled "Identity Crisis: Living Bi-Culturally in the Workplace" by panelists Angela Byars-Winston, PhD, professor, General Internal Medicine; Jason Stephenson, MD, assistant professor (CHS), Department of Radiology; and Tracy Downs, MD, professor (CHS), Department of Urology, moderated by Beverly Hutcherson, SMPH Diversity Outreach and Communications Manager and UW Health Career Pathways coordinator.
The second panel discussion was entitled "Negotiation: Salary, Title and Promotion" by panelists Terri Young, MD, MBA, chair, Department of Ophthalmology and Visual Sciences; Laurel Rice, MD, chair, Department of Obstetrics and Gynecology; Richard Moss, PhD, senior associate dean for basic research, SMPH; and Kenneth Mount, senior associate dean for finance, SMPH, moderated by Brian Gittens, EdD, associate dean for human resources, equity, and inclusion.
The summit opened with remarks by Robert Golden, MD, dean, SMPH. While SMPH has initiated several efforts focused on advancing diversity including establishing new processes, procedures, leadership and professional staff devoted to multicultural affairs, diversity, equity and inclusion, much work remains. "We should be proud at what we've accomplished, but at the same time we need to be honest...clearly we are not where we want to be," said Dean Golden.
Nationally, academic medical centers are grappling with recruiting and retaining a diverse workforce. Dr. Downs noted a recent Association of American Medical Colleges report showing that the number of African American males applying to US medical schools has remained stagnant for nearly 40 years-declining from 542 African American male medical student matriculants in 1978 to 515 in 2014.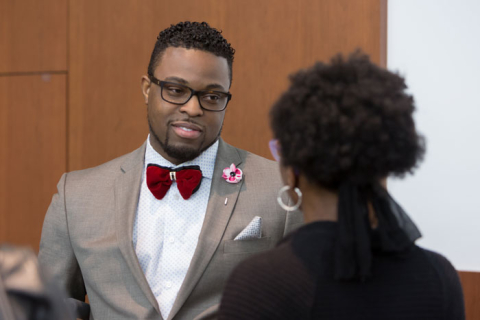 During the keynote talk, Dr. Okanlami (pictured at right) described his personal experiences as an African American male in academic medicine. Immigrating from Nigeria as a child and the son of two physicians, Dr. Okanlami was encouraged to pursue the field of medicine following his undergraduate training at Stanford University, during which he was a star athlete on the track team. He matched to orthopedic surgical residency at Yale after earning his medical degree at the University of Michigan. During his residency, he survived an accident that resulted in paraplegia.
Adopting a personal philosophy of "disabuse disability" as he pursued rehabilitation with tenacity, Dr. Okanlami did inpatient therapy in Chicago and returned home for outpatient therapy. He went on to earn a graduate degree in technology and entrepreneurship at Notre Dame. His capstone thesis, in partnership with the Cleveland Clinic and Custom Orthopaedic Solutions, involved a patient-specific medical device intended to make pedicle screw placement in spinal surgeries faster and more accurate - equipment that could have enhanced his own surgeries.
Life held another profound tragedy for Dr. Okanlami. Two years after his diving accident, he lost his father, a neonatologist, to suicide. As he shared this during his talk, audience members gasped softly and silence filled the auditorium.
Sharing anecdotes from his medical training, Dr. Okanlami discussed the influence of race on a personal level in context of society as a whole. "I forged my identity in the space between the white and black communities, but never felt accepted by either," he remarked. The day-to-day pressure of often being the only African-American in the room is perceptible, he explained. "On a tilted playing field, any minority has to outperform by orders of magnitude to be considered equal."
Urging the academic medical community to consider inclusion as a moral imperative, Dr. Okalami stated that diversity of experience cannot be defined by race alone.
"Everyone is injured by discrimination, and elevated by inclusion," he concluded.
Resources:
"Inaugural Diversity Summit Examines the Academic Workplace," UW SMPH, January 29, 2018
Video of introductory remarks and keynote talk - Dean Robert Golden, Dr. Tracy Downs, and Dr. Feranmi Okanlami
"UWSMPH Inaugural Diversity Summit Will Probe Lack of African-American Men in Academic Medicine," Madison365, January 26, 2018
"AAMC Report Shows Decline of Black Males in Medicine," AAMC News, September 27, 2016
Photo credits: UW SMPH/Todd Brown