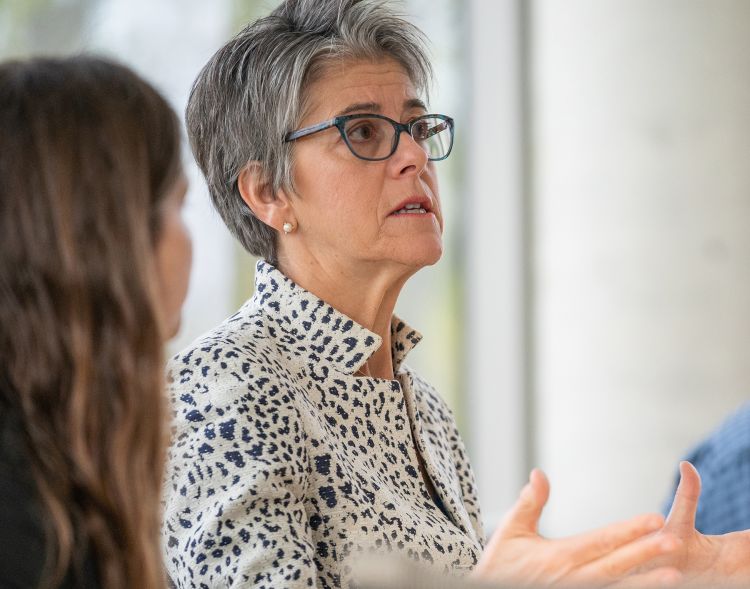 On November 1, 2019, the Department of Medicine welcomed special guest Christine Sinsky, MD, FACP, vice president of professional satisfaction at the American Medical Association (AMA), to present Grand Rounds and hold follow-up discussions with department leaders and faculty.
In her Grand Rounds presentation, "Creating a Manageable Cockpit for Clinicians: A Shared Responsibility," Dr. Sinsky spoke about the business case for addressing physician well-being, solutions to improve practice efficiency and possibilities for reclaiming joy in practice.
She began by sharing that nearly half of physicians in the U.S. are experiencing burnout—and that it affects patient care, clinician health and organizational efficiency.
For example, burnout-associated physician turnover and reduced clinical effort alone costs the U.S. health care system about $4.6 billion per year, or approximately $7,600 per physician per year.
In Dr. Sinsky's observation, 80 percent of burnout is due to systems factors, while 20 percent is related to individual factors. "If we want to address burnout, we have to focus on fixing the workplace, rather than fixing the worker," she said.
She then shared studies on the percent of physician time in ambulatory practice spent on electronic health record documentation, and how higher cognitive workload is associated with increased rates of burnout.
Workflow and Leadership Solutions
Dr. Sinsky focused the second half of her presentation on organizational solutions, beginning with key elements from the Stanford WellMD model.
She reviewed examples of workflow changes at health care organizations that have that had positive results, including:
Pre-visit lab planning;
Upstream prescription management;
Team documentation systems and staffing;
Inbox triage processes; and
Increased face-to-face communication between clinical team members.
She also highlighted health care leaders whose organizations have taken steps to improve physicians' work lives. 
Finally, she shared resources from the AMA, including its Joy in Medicine™ Recognition Program, information on debunking regulatory myths, and its STEPS Forward™ practice improvement modules.
In closing, Dr. Sinsky emphasized two takeaways:
Achieving the triple aim of better outcomes, lower costs and improved patient experience requires consideration of the fourth aim of professional-being; and
The current transactional notion of health care must be rebalanced with what is, at its core, a relational profession.
Watch the complete presentation:
Photo: Dr. Christine Sinsky talks with Department of Medicine leaders and faculty during a follow-up session to her Grand Rounds presentation on November 2, 2019. (Credit: Clint Thayer, Department of Medicine)