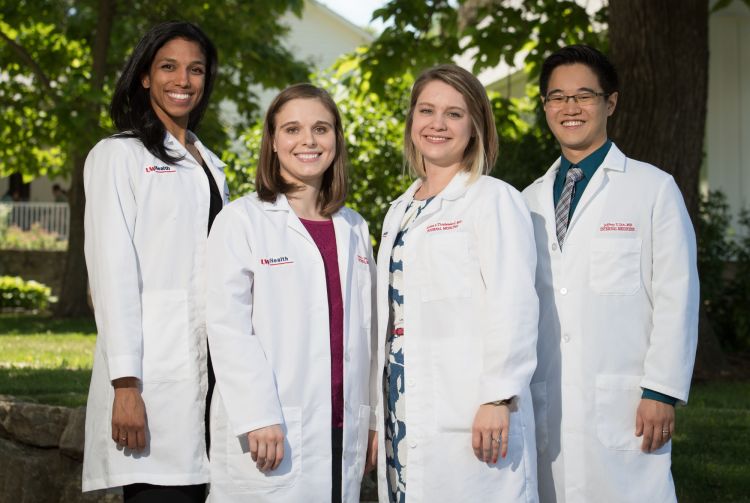 Autumn is the time of the year when the University of Wisconsin–Madison Department of Medicine buzzes with the energy of hundreds of candidates applying for our residency and fellowship programs. 
From September through January, the best and brightest applicants join us for invited interviews with faculty. Through those meetings, they learn about how continuing their medical education here can help them launch a successful career. 
Interview season is just one stage in a much larger journey of becoming a physician. The Department of Medicine is honored to be a part of each of those stages, and to be a place where so many people learn how to be great doctors.
The Stages of Medical Education
1. Undergraduate. For many future physicians, medical education begins during the undergraduate years. Department of Medicine faculty serve as research mentors for UW-Madison students, and offer academic enrichment experiences for students in premed pipeline programs offered by the UW School of Medicine and Public Health (SMPH) and partner schools.
2. Medical school. Medical school is where students learn the foundations of medical practice and determine which specialty they ultimately want to pursue. They learn from Department of Medicine faculty through SMPH course lectures, small-group workshops, hands-on clinical training experiences, mentored student research programs and individual coaching.
3. Residency. Newly graduated doctors then enter residency training in the specialty of their choice. During that time, residents practice in clinics and hospitals under the direct supervision of senior physicians, gaining the in-depth experience needed for board certification and professional practice. 
Internal medicine residency programs, like the one at the Department of Medicine, take three years to complete, or longer if the physician is also pursuing a research career. Our program, which has been accredited since 1965, now trains approximately 28 residents per year. The best may also apply to become a chief resident, a position that provides additional experience in teaching, scholarship and leadership.
Watch a video about the Department of Medicine resident experience:
4. Fellowships. Physicians who want to further specialize in fields such as cardiology, gastroenterology, infectious disease or nephrology must also complete a one- to three-year fellowship, which provides advanced training required for additional board certification in those fields. The Department of Medicine offers 22 fellowships across 10 subspecialty divisions, training approximately 75 fellows each year. 
5. Continuing medical education. Practicing physicians continue to participate in educational activities throughout their career. The Department of Medicine offers weekly Grand Rounds lectures and workshops throughout the year to support faculty professional development, plus many courses for community practitioners.
Our Programs' Success and Impact
We are privileged to support learners through their journey to becoming physicians, and work hard to ensure that they have an outstanding educational experience. 
Medical students routinely share positive feedback about our faculty's clinical expertise, passion for teaching and commitment to professionalism. 
Internal medicine residents value our transformational approach to education, which focuses not only technical acumen and capacity for critical thinking, but also on emotional and interpersonal wisdom—in an environment that fosters innovation, personal growth and wellness. 
Our fellows appreciate the opportunities to learn and work side-by-side with top experts in their specialty, conduct innovative research and pursue activities that support their individual career aspirations.
We are also deeply proud of our learners' successes after they complete their education here. 
For example, SMPH graduates made up 17 percent of our incoming internal medicine residency classes from 2013 to 2019.
In addition, every one of our residency graduates passed their board exams over the past three years, as did every graduating fellow over the past two years. 
Further demonstrating our program's strength in an increasingly competitive landscape, our residency graduates also make up more than 40 percent of our current faculty—first-rate physicians whose expertise and compassion are respected in Wisconsin and beyond.
What's more, faculty who completed their residency or fellowship here lead 59 percent of the National Institutes of Health-funded research in our department procured by physicians. Through their studies, they investigate today's critical scientific questions in order to improve health care for the patients of tomorrow.
---
Photo: A file photo of the 2016 Department of Medicine chief residents (Credit: Clint Thayer, Department of Medicine)
Originally published November 13, 2019. Updated April 20, 2021.