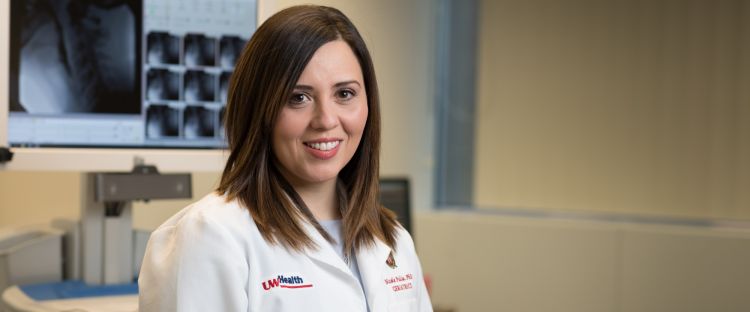 Nicole Rogus-Pulia, PhD, assistant professor, Geriatrics and Gerontology, has been awarded nearly $840,000 over 5 years from the National Institutes of Health-National Institute on Aging (K23 award) for a proposal entitled, "Novel Therapeutic Interventions for Patients with Alzheimer's Disease and Comorbid Dysphagia." 
The funding will support Dr. Rogus-Pulia's career development and research on interventions to improve the care of swallowing disorders (dysphagia) in patients with Alzheimer's disease.
Dr. Rogus-Pulia is an assistant professor in the Division of Geriatrics and Gerontology. Additionally, she is the Director of the Swallowing and Salivary Bioscience Research Program in the Geriatric Research Education and Clinical Center (GRECC) at the William S. Middleton Memorial Veterans Hospital, and  Director of the multi-site Veteran Health Administration's (VHA) Intensive Dysphagia Treatment (IDT) program. 
Her research program focuses on identification and characterization of factors underlying dysphagia in older adults and translating these findings into novel, evidence-based treatments for prevention of dysphagia-induced pneumonia. 
People living with Alzheimer's disease frequently develop swallowing disorders, which can lead to decreased quality of life as well as serious health consequences, including malnutrition, pneumonia, and death.
Common treatments for dysphagia in patients with Alzheimer's disease attempt to compensate for swallowing difficulties. For example, speech-language pathologists may provide therapy aimed at altering the flow of food or liquid materials in the oral cavity to avoid having materials enter the airway (aspiration). 
"These approaches do not result in sustained improvements in swallowing physiology, and often negatively affect quality of life," wrote Dr. Rogus-Pulia.
The goal of her research is to develop effective dysphagia rehabilitative interventions for patients with Alzheimer's disease who at risk for developing pneumonia. 
Approaches that Dr. Rogus-Pulia is investigating include techniques that bolster tongue muscle strength and using specialized saliva-mimicking solutions. 
"Progressive-resistance lingual strengthening and saliva substitute are two interventions that have been shown in preliminary studies to positively influence swallowing function in older adults," she wrote. 
A small, pilot clinical trial will assess the effectiveness of these interventions, both alone and in combination.
Resources: