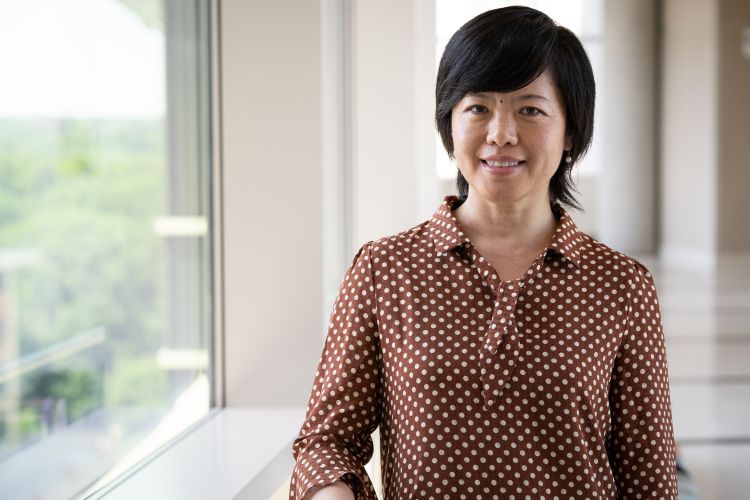 Jianhua Zhang, PhD, senior scientist, Cardiovascular Medicine, first learned about Marie Curie's story and discoveries while studying chemistry in middle school. Years later, Dr. Zhang's work is still guided by a quote from Curie: "Nothing in life is to be feared, it is only to be understood. Now is the time to understand more, so that we may fear less."
"That's my whole motivation, passion and interest in doing research, particularly now in the era of stem cell research," said Dr. Zhang.
She conducted her postdoctoral training at UW-Madison after earning her PhD in molecular and developmental biology at Peking University in Beijing, China. Since 2005, Dr. Zhang has been a member of the laboratory of Timothy Kamp, MD, PhD, professor, Cardiovascular Medicine and co-director of the UW Stem Cell and Regenerative Medicine Center. She joined the Kamp laboratory to perform cardiovascular research using human stem cells. "The discovery by Dr. James Thomson of human embryonic stem cells, and the possibilities these cells can bring to us, motivated me to pursue this profession," said Dr. Zhang.
The central focus of her research is understanding how the heart develops – and thus, how it can be repaired when damaged. "My work focuses on turning human pluripotent (master) stem cells into various types of human heart cells with the goal of advancing our understanding of heart development and disease, and finding new regenerative strategies for the diseased heart," she explained.
When she joined the Kamp laboratory, the group was focused on understanding how stem cells could be coaxed into forming different types of heart cells such as heart muscle cells (cardiomyocytes) and cells that provide structure to the heart (cardiac fibroblasts).
Dr. Zhang was captivated. "I remember when I first induced human stem cells to develop into heart cells, and I saw them beating in sync in the cell culture dish for the first time. It was exciting."
One of her initial breakthroughs, in collaboration with the Thomson laboratory, was to lead a study defining the ability of human induced pluripotent stem cells (hiPSCs) to form cardiomyocytes. The team showed that these lab-grown cardiomyocytes were similar to ones derived from human embryonic stem cells (hESCs). The paper describing this work, which was published in 2009, has been cited nearly 1,200 times.
Progress in the field has required painstaking effort. "At the beginning when I had just joined the lab, if you spent a whole month trying to elicit differentiation of cells into cardiomyocytes, you could only get 5 percent of the cells to become cardiomyocytes. As of six years ago, we could get 95 percent. We've developed protocols to improve the purity, the efficiency, and the yield," she said.
Dr. Zhang's joy is threefold: seeing scientific questions answered through experimentation, sharing the laboratory's findings (often through publications) to move the field forward, and training the next generation of medical researchers. "Human pluripotent stem cells hold tremendous promise for regenerative medicine, for the treatment of disease, and for human health," she said.
"My day is pretty dynamic and it's different every day," she explained. "That's the fun of doing research." Often, Dr. Zhang is engaged in meetings with laboratory technicians, students, and collaborators. Cell culture is a nearly-constant focus, since laboratory-grown cells demand daily care. Other tasks include searching and studying the scientific literature, designing, conducting, and trouble-shooting experiments, analyzing and interpreting data, training laboratory technicians, mentoring undergraduates, and helping graduate student and postdoctoral trainees.
"The job is demanding, but of course we are not working 24 hours a day," she teased. In her free time, Dr. Zhang enjoys yoga and gardening. These physical hobbies come naturally; as a child, she trained as a Chinese folk dancer and rhythmic gymnast.
With pride, Dr. Zhang notes that several of the undergraduates she mentored and trained have chosen to continue their efforts in science, including Gina Kim, who is now a research specialist in the Kamp laboratory. Former students Andrew Soerens and Edward Ruiz continued their careers in graduate school in University of Washington at Seattle and Columbia University, respectively.
She believes that good scientific research requires dedication, perseverance, and honing one's capacity for scientific thinking. To aid the latter, she recommends a book entitled Critical Thinking by educational psychologists Dr. Richard Paul and Dr. Linda Elder. One of her favorite quotes from the book is, "Scientific thinkers are clear as to the purpose at hand and the question at issue. They question information, conclusions, and points of view. They strive to be accurate, precise, and relevant. They seek to think beneath the surface, to be logical, and objective."
Clear thinking must be supported with adequate surroundings in order to promote scientific success. "A good lab and resources are also important for conducting research," said Dr. Zhang. "We have our great group leader, Dr. Kamp, who is an outstanding role model as a scientist. We are also fortunate to have good colleagues, collaborators, great resources, access to excellent core facilities, and research funding provided by the NIH, the National Science Foundation, and the UW Institute for Clinical and Translational Research in our School of Medicine and Public Health." All of these factors are essential and have motivated her, she explained.
Ultimately, Dr. Zhang envisions a world in which poor health can be relinquished to the past. "I wish for a future in which people don't get suffer from age or debilitation, and in which a cure exists for any disease," she said. One path toward this future is understanding and applying the potential of human stem cells, she asserts.
"These cells can achieve this future someday, I believe."
Editor's note: This is the third article in our Everyday Remarkable series, which tells the stories of staff members within the Department of Medicine. Nearly 350 staff members on our team are dedicated to educating the next generation of physicians, advancing health, facilitating and conducting life-changing research, and ensuring the smooth operation of the largest academic department in the UW System. We'll go behind the scenes with staff to give Vital Signs readers a glimpse into the roles, responsibilities, challenges, and joys that they encounter every day. Have a suggestion for a person or job that you think we should cover? Contact us.
Resources: