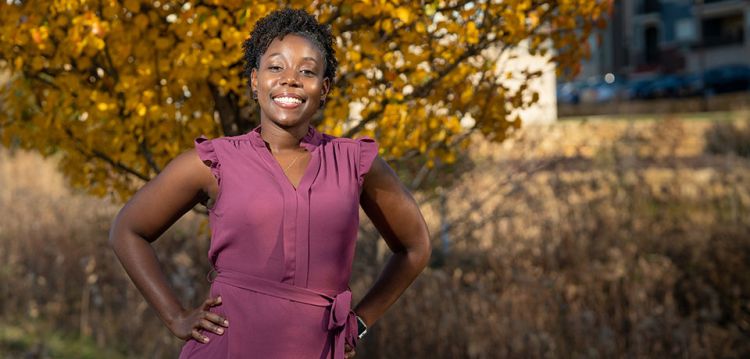 As an accomplished clinical researcher who is committed to serving marginalized groups, Shenikqua Bouges, MD, assistant professor, Geriatrics and Gerontology, was named one of this year's UW-Madison Outstanding Woman of Color. Her generosity, passion for her work, and spirit of service have inspired those around her, and have not gone unnoticed.
"I was shocked when I heard about [the honor]. I thought it was amazing, but it also motivates me to continue striving for my best. It's very encouraging to me," said Dr. Bouges.
As a recent fellow-turned-faculty member, Dr. Bouges' work seeks to address the under-representation of Black/African Americans in Alzheimer's disease and related dementias (ADRD) research. African Americans are nearly twice as likely to develop Alzheimer's disease than White Americans, and Dr. Bouges is working to determine the best recruitment strategies to improve African Americans' enrollment and participation in Alzheimer's research. To do this, she is studying why people trust medical researchers, various trust-building techniques, and is testing the success of different recruitment strategies to improve an individual's willingness to participate in research.
She also recognizes the importance of providing dementia resources to African Americans, and has not only dedicated her career to it, but looks to help out her family and community, too.
This work is personal to Dr. Bouges, as dementia runs in her family. She makes sure to talk with her family members to help them understand dementia, and keeps a list of her grandmother's medications in her phone to help her keep track of them. Making sure her family and community have the resources they need to stay proactive about their health is Dr. Bouges' top priority.
"Community work has always meant a lot to me, and I wanted whatever career choice I made to involve public service," Dr. Bouges said.
Throughout her education and career, volunteering has always been a priority to Dr. Bouges. As an undergrad, she served at clinics and hospitals, traveled to Jamaica working with children living with HIV, more recently has volunteered with the Department of Medicine's COVID-19 Journal Club, and has mentored undergraduate students from minority communities interested in pursuing careers in Alzheimer's research.
Upon her move to Madison, Wisconsin, she became involved with Memory Sunday, an initiative to bring awareness for Alzheimer's disease to African American churches.
"I provided a presentation on Memory Sunday for a health ministry event at our church. The purpose of Memory Sunday is to increase awareness on Alzheimer's disease and related dementias and encourage churches to recognize dementia in the month of June. I believe people were very receptive to the information provided," she said.
Now, every June, the church will acknowledge Alzheimer's and related dementias. But her service work does not end there. Dr. Bouges also had a conversation about health and wellness at a Get Movin' exercise class, where participants raved over her ability to listen, make medical language understandable, and offer solutions to their questions.
From the colleagues who feel privileged to work next to her, to family and community members who feel more confident to seek out the health care they need, it is safe to say that Dr. Bouges' compassion and caring heart have left a mark on everyone she meets.
Carey Gleason, PhD, associate professor, Geriatrics and Gerontology, who nominated Dr. Bouges for this honor describes her as someone she would want to care for her own mother.
"Not only is she a knowledgeable and conscientious physician, she shows a unique balance of respect and empathy toward her older patients – another population frequently marginalized. With all her patients, she listens and takes the extra time," Dr. Gleason said.
The thought of making a difference in someone else's life is what keeps Dr. Bouges going.
"And that's what gives me the feeling to keep going, just knowing that I'm doing something to potentially help someone else, or make someone else's life better," Dr. Bouges said.
Banner photo, Shenikqua Bouges, MD, assistant professor, Geriatrics and Gerontology, photo: Clint Thayer/Department of Medicine