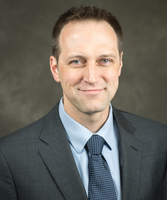 Ryan Westergaard, MD, PhD, MPH, associate professor, Infectious Disease, received a five-year, $481,135 R01 award from the National Institutes of Health/National Institute on Drug Abuse (NIH/NIDA) for his project, "Health Systems Innovations for Supporting Transitions of Care for Incarcerated People Living with HIV, Hepatitis C and Opioid Use Disorder."
People who are living with or at high risk for HIV, hepatitis C and opioid use disorder are incarcerated more frequently than the general population, and face substantial challenges accessing needed treatment and prevention services after they are released from prison.
Westergaard's team will examine the critical components necessary for ensuring effective transitions of care after release from prison, evaluating the influence of individual-level characteristics and comorbidities, and community-level determinants, such as local health systems capacity for delivering medication-assisted treatment for opioid use disorder and hepatitis C treatment.
The team will analyze linked data systems from the Wisconsin Department of Corrections and the Wisconsin Medicaid Program to determine whether policy changes aimed at increasing Medicaid coverage for low-income residents have translated to improved healthcare access for this population.
Their work will inform the adaptation and implementation of a low-cost, nurse case management intervention to more effectively link people to post-incarceration care and services.