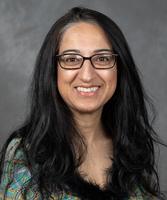 Nasia Safdar, MD, PhD, professor, Infectious Disease, received a three-year, $5.6M contract from the Centers for Disease Control and Prevention's (CDC) Safety and Healthcare Epidemiology Prevention Research Development (SHEPheRD) Program for the project, "Assessment of the dynamic change of population immunity and susceptibility to emerging influenza antigenic variants in the United States."
In this project, Safdar and collaborators will conduct repeated cross-sectional serologic sampling over three influenza seasons across all age groups from representative geographic locations in the United States.
This work will help determine changes in population immunity and susceptibility to emerging influenza viruses and may contribute to selection of influenza vaccine viruses.
The team will recruit and retain individuals for the sampling, with a proportion of samples being collected from the same individual over the course of the three-year project. They will provide sera and final data to the CDC for further analysis of influenza virus fitness forecasting and to be used in the influenza vaccine strain selection process.
Project collaborators include FHI Clinical, Inc.; faculty and staff at the Survey of the Health of Wisconsin; and Mary Hayney, PharmD, MPH, FCCP, BCPS, a professor in the UW School of Pharmacy.