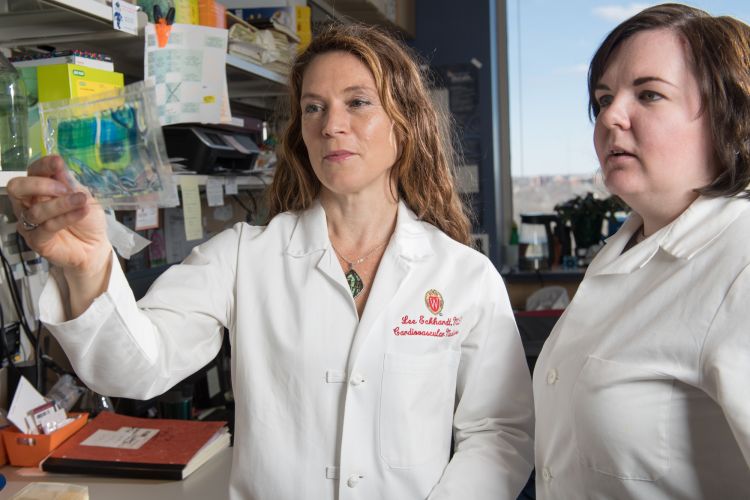 Lee Eckhardt, MD, MS, associate professor, Cardiovascular Medicine, has been named the inaugural Gary and Marie Weiner Professor in Cardiovascular Medicine Research.
Dr. Eckhardt is a leading cardiologist who has dedicated her research career to the study, treatment and prevention of arrhythmias that cause sudden death syndromes. The professorship provides annual support to advance Dr. Eckhardt's research program.
For people who have arrhythmias, the heart's electrical system can suddenly malfunction, causing the heart to beat dangerously fast and not effectively deliver blood to the rest of the body. If the brain doesn't receive enough blood, a person will lose consciousness, and without emergency treatment, will die.
In her laboratory, Dr. Eckhardt investigates both genetic and acquired causes for arrhythmias, including certain mutations in genes that encode ion channels—the proteins that control the timing and flow of electrical charges into and out of heart muscle cells.
Her team uses a variety of model systems, including mouse models, human-induced pluripotent stem-cell–derived heart muscle cells and stem cell lines modified by the gene editing technology CRISPR. These tools are used to pinpoint the underlying mechanisms of arrhythmia and potentially identify future treatment approaches that are more accurate and personalized to each patient.
In addition to leading her research program, Dr. Eckhardt is the co-director of UW Health's Inherited Arrhythmias Clinic and the Cardiac Arrest Prevention Program. Known nationally for her clinical and research expertise, she is the vice president of the Cardiac Electrophysiology Society, an international society of scientists and physicians interested in cardiac electrophysiology and arrhythmias.
Generous Support From Gary and Marie Weiner
The endowed professorship was established with a gift from Gary and Marie Weiner, pictured at right.
Gary Weiner is the founder of NAStar Inc., a specialty manufacturer of self-adhesive products located in Middleton, Wisconsin, and Marie, now retired, was the chief operating officer for a large insurance company's Wisconsin operation. Though the Weiners now divide their time between Wisconsin and Florida, Madison has been their home for decades.
This is their second major gift to the Department of Medicine. Their first, in 2014, now supports important research within the department. 
The Weiners have also served as members of the Mini Med School Advisory Board. They appreciate how that program connects the UW School of Medicine and Public Health's important work with the public. "We were impressed with the outreach of the School of Medicine and Public Health to the community and recognized how important it is to the community," said Gary Weiner.
As they were considering this most recent gift, the Weiners were impressed by Dr. Eckhardt's national reputation and research success. "When we looked at Dr. Eckhardt's work with arrhythmia and how well known she is in the industry, her publications, and her efforts in the lab, it made it an easy choice for us," said Marie Weiner.
For them, this new professorship exemplifies the value of research in advancing the future of healthcare.
"As we travel, we've become aware of the fact of how valuable the UW healthcare system is," noted Marie Weiner. "We have had great care and we want to continue to support that."
"I am so grateful to Gary and Marie Weiner for their generosity in establishing this professorship," shared Dr. Eckhardt. "This support from the Weiners will enable us to strengthen efforts to better understand and treat life-threatening arrhythmias."
"Gary and Marie Weiner are more than just supporters of our division and department—they are also friends of the UW School of Medicine and Public Health" reflected Mohamed Hamdan, MD, MBA, professor and chief, Cardiovascular Medicine. "Just as we were thankful for their first gift in 2014, we are now thankful for their support of Dr. Eckhardt's career and research, which has great potential to improve the lives of the patients we serve."
Banner photo, Lee Eckhardt, MD, MS, in her lab with assistant scientist Louise Reilly, PhD.