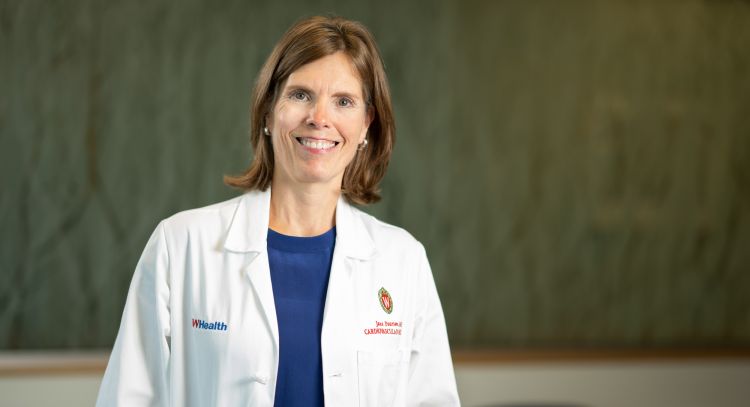 With a passion for cardiovascular disease prevention, Jane Pearson, MD, clinical assistant professor, Cardiovascular Medicine, strives to empower patients to take charge of their health and improve the diagnosis and treatment of hypertension.
Hypertension affects 45% of the U.S. population, and is the leading contributor to cardiovascular disease. Diagnosing and effectively treating hypertension represents the best medical opportunity to reduce heart disease and improve population health.
Hypertension is becoming more challenging to treat because patients have more comorbidities, and with each guideline update, the blood pressure goals become lower as more data shows better outcomes with lower blood pressure.
"The majority of hypertension is managed by our excellent primary care teams. Some cases, though, don't respond to usual care and the UW Health Hypertension Specialty Clinic of dieticians, RNs, APPs and physicians offers expertise in diagnosing secondary hypertension and managing difficult-to-treat hypertension," she says.
As a Certified Hypertension Specialist, Dr. Pearson will serve as a consultant on cases that require more advanced treatment.
According to the American Hypertension Specialist Certification Program, a Certified Hypertension Specialist is a physician who has demonstrated mastery of a defined body of knowledge relating to hypertension, with expert skills in and knowledge of the management of clinical hypertension and related disorders, especially as they relate to complex and difficult-to-treat cases.
Earning this title requires a large amount of studying, content assimilation and experience in treating patients with hypertension.
"I really enjoyed preparing for the exam—the physiology hasn't changed much over the decades, but pharmacology has. Connecting the pathophysiology of hypertension with the various antihypertensive medication effects was a new way for me to think about hypertension physiology—super interesting. Figuring out the best drug, at the right dose and in the right combination without side effects for each patient is so rewarding," she explains.
Certified Hypertension Specialists often act as local consultants for more challenging cases and provide advice regarding guidelines and process improvements. There are approximately 1,500 practicing physicians with this designation in the United States, Canada, and internationally.
"I am motivated to achieve and sustain expertise in hypertension care to improve the health of our patients, and also to provide a resource for other clinicians in Wisconsin. The hypertension Specialty Program and exam is a great foundation," she says.
Banner photo, Jane Pearson, MD. Credit: Clint Thayer/Department of Medicine